Utilize The Cloud To Your Advantage.
How Will You Approach Your Cloud Journey?
Our pipeline-driven approach and innovative platform tooling enables us to move customer workloads quickly, efficiently, affordably – and with predictable results. Most importantly, we work with customers to avoid wasteful and undifferentiated outcomes delivered by typical lift-and-shift migrations.
Cloud-Native
Re-platform your applications to take full advantage of cloud technologies from day one, delivering the full promise of the cloud — cost, scale, and reliability.
Migrations as Code
Rather than migrating virtual machines, Migrations as Code builds automated delivery pipelines and a long-term operating model beyond the migration.
Incremental & Agile
Get to outcomes quickly and align and adapt to evolving business needs delivering results-focused migrations measured in months, not years.
Let your cloud journey begin with Zindagi!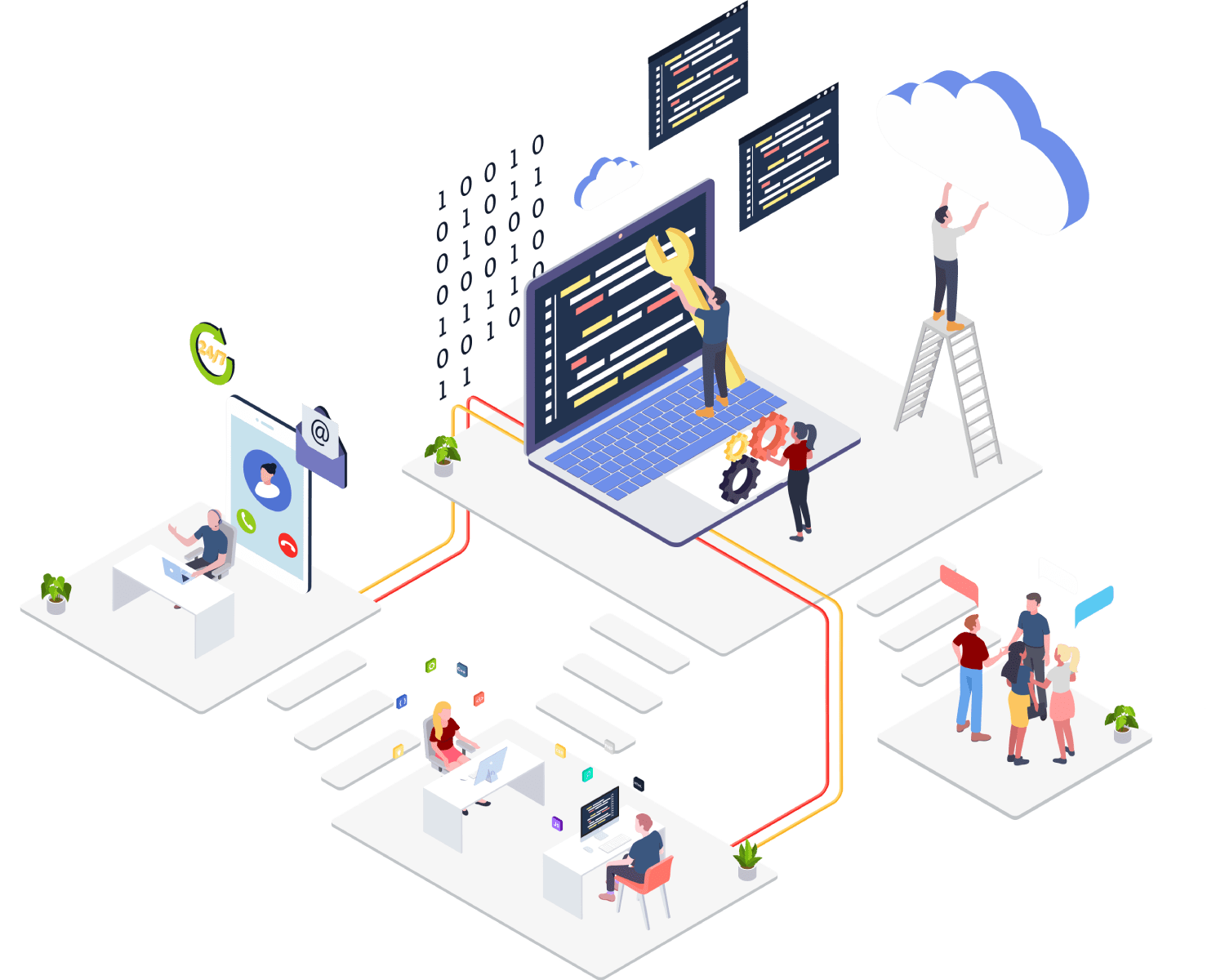 Cloud Platforms We Excel At
Microsoft Azure
Zindagi Technologies delivers projects involving Microsoft Azure solutions and services. Azure is our platform of choice when it comes to building cloud-first applications, including IoT and ML software that requires impressive computing resources, along with high-class data protection.
Amazon Web Services
Zindagi Technologies provides consulting, development, and support for companies with AWS deployments. We rely on the AWS capabilities to deliver enterprise cloud solutions, microservices, infrastructures as code, CI/CD cycle automation, and more.
Cloud strategy consulting
We pave the way for new resilient cloud infrastructures at enterprises. We lay the basis for smooth movement to the cloud through an elaborated cloud adoption strategy that covers both basic technological changes and high-level challenges such as team restructuring and new budgeting policies.
Infrastructure assessment
To guarantee trouble-free cloud transformation, we provide cloud infrastructure consulting. Our team evaluates current infrastructures and estimates the investment and effort needed for the cloud shift. We also assess the state of the software in use to plan its further migration to the cloud and its integration in the enterprise's digital ecosystem.
Cloud technology selection
We help our customers select the most suitable cloud technologies. We recommend businesses the optimal tech stacks that would propel them toward improved operations with enhanced software characteristics (performance, functional maturity, device compatibility) and reduced maintenance effort.
ARE YOU READY FOR THE CLOUD?
Let our team guide you for a smooth cloud transformation.
A Full-Lifecycle Cloud Adoption Partner
Outcomes Designed to Last
Delivering value without rework with a forward-thinking approach.
Cloud-Native Thinking
All About the People
Public Cloud
We opt for a public cloud when businesses are ready to trade their exclusive ownership of their software for the multi-tenancy mode with minimized management effort.
Private Cloud
We advise companies to choose private cloud deployments when they need to preserve their software autonomy coupled with the ability to manage their cloud solutions in a way similar to on-premises ones.
Virtual Private Cloud (VPC)
We configure virtual private clouds that combine the strengths of public and private clouds, which helps businesses put an end to their private vs public dilemma.
Hybrid
We recommend a hybrid cloud to businesses that want to leverage the openness and flexibility of a public cloud while retaining full control over the critical enterprise workflows and data in their on-premises infrastructures.
Multicloud
We apply our expertise in cloud computing consulting to help our customers understand and successfully manage complex cloud ecosystems that embrace several cloud deployments models or cloud solutions from different providers.
Multiple clouds and one solution
GO BEYOND LIFT-AND-SHIFT AND ELEVATE YOUR WORKLOADS IN THE CLOUD
Realizing the benefits of the cloud requires more than identifying which workloads to move and in what order. Embark on a true cloud transformation by embracing cloud-native thinking, forging a path customized to your state of cloud maturity, and identifying clear outcomes you are looking to the cloud to enable.
01
Cloud Migration
Zindagi carries out complex direct and multistep software migration to the cloud. Within our cloud migration consulting, we not only physically move a solution and set it up in a new environment, we also enhance its features, UI/UX, performance, and security to build a solution satisfying to use and manage.
02
Architecture Redesign
Software architecture redesign is an essential part of Zindagi's cloud migration consulting scope. We rebuild legacy on-premises architectures to adapt them to the cloud parameters. Relying on our expertise and best practices, we deliver cloud architectures that are easy to implement, set up, and scale in the future.
Looking for a Cloud Solution?
Let's discuss your requirements.
Your Cloud Consulting Options & Services
Our team creates custom cloud-hosted solutions with unique features. From the architecture design to the launch, we assist enterprises in bringing their SaaS software to life and making it a business-enabling tool.
Platform-based Cloud Solutions
As a cloud consulting firm with a track record of cloud projects, we know how to adapt popular cloud platforms to the needs of businesses across various industries. If you are up for a Salesforce CRM, an Office 365 intranet or an Acumatica-based ERP, our professionals will deliver a solution that brings together the platforms' out-of-the-box strengths and the power of custom features.
We provide this extra support to all of our customers.
We dispel all cloud security concerns by implementing cloud-specific security controls. Our specialists use best security practices to make your cloud deployment invincible to ever-evolving attacks, as well as fully compliant with international and industry-specific regulations.
We apply our competencies to make your cloud-based applications run smoothly across mobile platforms and devices. Improved employee and system connectivity, functional agility, and robust protection are the must-haves that we bring to every cloud project with essential mobile requirements.
When you don't have internal resources to take care of your cloud deployment, Zindagi Technologies takes up this responsibility. We provide all levels of cloud implementation support and ongoing management, so that your solution stays updated, secure, and aligned with its users' needs.