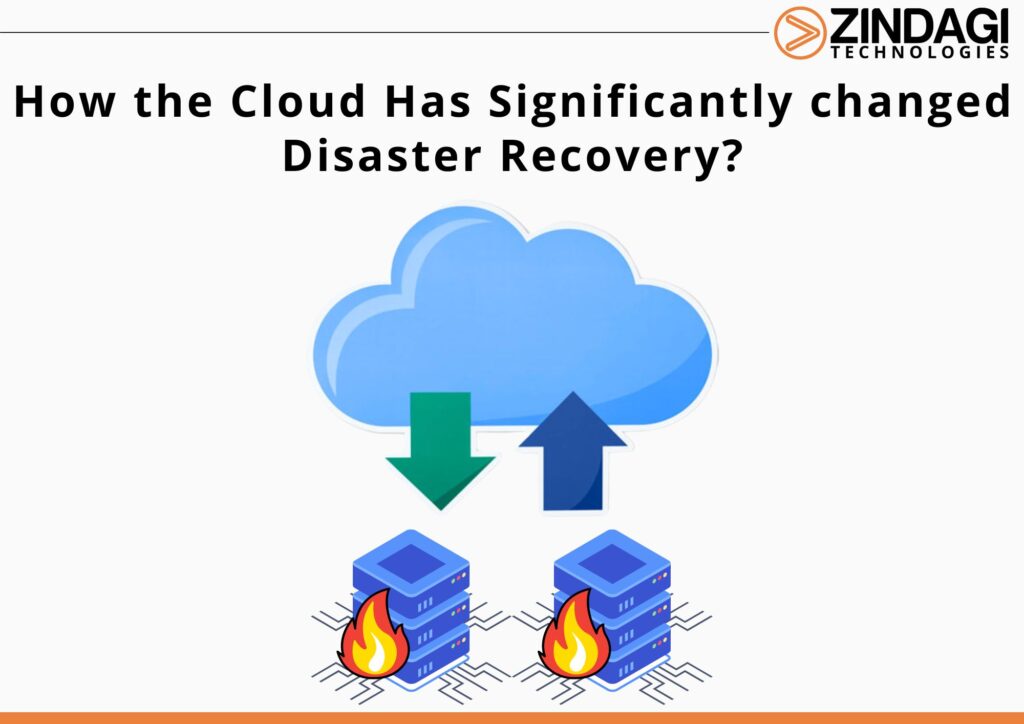 "Data" for every business is like gold, the more you have it, the more you are scared of losing it. Just like we have plans for our gold and how can we save it from thieves, similarly, cloud backup and recovery solutions are also followed in every organization. The disaster recovery plans are as much essential as you're basic need for survival. Data, termed as the most critical asset of any company is to be protected because if that is lost then productivity, operations, and all the profit you made from it will become useless.
Data lost is lost no matter if there was a natural disaster or human error or service outage or anything in this world. The dependencies increase as the data is lost and then the situation becomes unpredictable. Owning to such unpredictability, the companies have chosen cloud disaster recovery and are not planning to go with traditional recovery methods.
Cloud Disaster Recovery, What Is It?
The predictability of a disaster strike is as low as getting bit by a turtle, you would not know. But to keep things under control, a disaster recovery plan is required by every organization. This is the only way one can ensure business continuity and operation that will be halted during the disaster. Organizations need to bounce back as early as possible giving away minimum downtime.
In order to back up important data and apps to the public cloud and then be able to restore a company's vital resources in the event of a disaster, cloud disaster recovery, or DR, is a cloud-based service. That is, the company is able to restore its data and applications to its local data centre and guarantee that its activities continue in the event of a disaster, whether it is a natural disaster, a cyberattack, or a system failure.
What Changes Do We See With The Cloud?
Traditional and cloud computing disaster recovery have the same goal. The effective strategy to save critical information or data and recover them quickly is on one side and on the other side there are different approaches. This is a result of how virtualization and cloud computing have altered the overall strategy. In traditional DR, one needs to set up a physical DR centre in a location that is secondary. No matter the protection provided to the off-site location, it was still not enough and was limited. The process was huge and the expenses were burning a hole in the pocket when the maintenance of these locations by the hired staff was talked about.
Cloud computing has made things easy as virtualization has diverted the path of DR in very different ways. The initial need for traditional DR is not required and managing the secondary data centre is also not needed. Virtualization has given the ability to transfer data from one data centre to another quickly reducing the recovery time. The allocation of resources is to the servers and applications so as to run properly and efficiently as most of them are critical applications and need the resources. This, in turn, saves the cost of multifold and also the cloud to restore the IT infra much more efficiently than the traditional DR.
What Comprises A Disaster Recovery Plan?
A disaster recovery plan is made up of a collection of tools and procedures put in place to resume operations when any kind of calamity occurs. Some important considerations to bear in mind when drafting your company's disaster recovery strategy are as follows.
A risk assessment and a business impact study should be done initially. This requires undertaking a review of all of your company's data and apps and to assess the possible disasters that may occur and if your infrastructure can withstand such calamities. It also entails rating your resources based on how important they are to your company. This is done to make sure that the most important apps get the right amount of resources and are restored quickly.
Second, your company has to establish a few performance goals. The first is the Recovery Time Objective (RTO), which specifies the maximum amount of application downtime your company can sustain before it has an impact on business operations. The second is the Recovery Point Objective (RPO), which specifies the most data that can be lost in the event of a catastrophe.
Choosing which PRRR (prevention, readiness, response, and recovery) strategies to use is the next stage. Last but not least, after putting in place your disaster recovery plan, your company should also make sure that testing and updates are carried out on a regular basis to guarantee the effectiveness of your disaster recovery plan.
The Saving Component Is A Strong Disaster Recovery Plan
Natural disaster, cyberattack, human error, downtime, power outage or anything else, a disaster is deemed as a disaster, and it can strike anytime. They can not be predicted and after the strike, a huge loss of data is encountered. Zindagi Technologies' goal is to minimize downtime and bring up the systems in the shortest time period. A curated disaster recovery plan from our masterminds will not let you lose your data. We provide you with the latest cloud backup and recovery solutions and ensure that the work is done on time and efficiently. To get in touch with us call on or drop us a message at +919773973971 or you can also visit our office for further discussions. We are also available on LinkedIn, follow us for more. 

Author
Shweta
Senior Executive, S&M