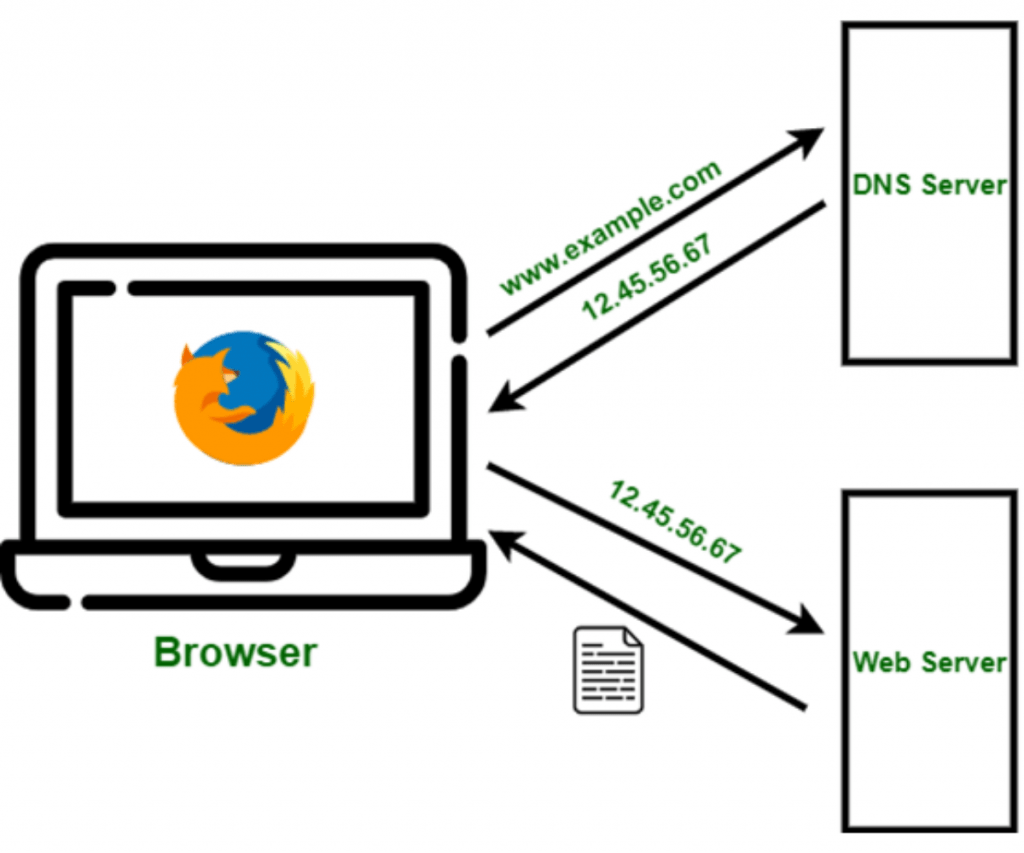 What is DNS?
DNS translates domain names to IP addresses by which the browsers can load resources over the internet. Each device connected to the Internet has a unique IP address which is the identity to find other machines over the internet. DNS servers eliminate the need for humans to memorize IP addresses such as 192.168.1.1 (in IPv4), or more complex newer alphanumeric IP addresses.
Which DNS Servers Are Involved In Loading A Webpage?
How does DNS work?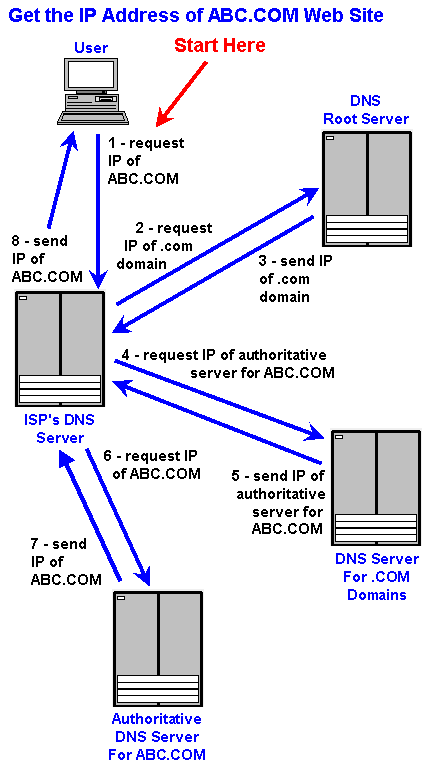 What Are The Eight Steps In A DNS Lookup?
A user enters a domain name (e.g. abc.com) into their browser, and the browser sends the query by their internet service provider ISP to a DNS recursive resolver.
The DNS recursive resolver, in turn, sends a query to the DNS root server.
The root server returns to the resolver the address of the top-level domain (i.e. "TLD") DNS root server, which has the needed information for the abc.com domain. (Examples of a top-level domain TLD include ".com", ".net", and ".org," which each TLD has its own root DNS server.)
The resolver then sends the information request to the Top-Level Domain server.
The TLD name server responds to the resolver with the IP address of the domain's name server. (In this case, the DNS server for "abc.com".)
The DNS recursive resolver sends the query to the domain's DNS server.
The domain's DNS server then returns the IP address to the DNS resolver for the requested domain (e.g., "abc.com").
The DNS resolver returns the IP address of the requested domain to the requesting web browser. Then the browser sends the HTTPS request to the IP address, and the server with that IP address returns the webpage.
Different types of DNS records are as follows
A (Address) Record: Used to map a hostname to an IPv4 address. Generally, A records are IPv4 addresses.
AAAA (Address) Record: Used to map a hostname to an IPv6 address. Generally, AAAA records are IPv6 addresses.
NS (NameServer) Record: Describes a name server for the domain that permits DNS lookups within several zones. Every primary, as well as secondary name server, must be reported via this record.
MX (Mail Exchange) Record: Permits mail to be sent to the right mail servers located in the domain. Other than IP addresses, MX records include fully-qualified domain names.
Canonical Name (CNAME) Record: used to set an alias for the hostname.
Text (TXT) Record: Permits the insertion of arbitrary text into a DNS record. These records add SPF records into a domain.
Pointer (PTR) Record: Creates a pointer, which maps an IP address to the hostname in order to do reverse lookups.
Zindagi Technologies is an IT consultancy and professional services organization providing services in PAN India. We have engineers who are experts in large-scale data center design and deployment, information security, blockchain, IoT, Smart City, hybrid cloud solutions, along with network designs for private/public/Large scale and medium-scale enterprises. Each one of us has years of experience in large-scale network design, deployment, and automation. You can reach out to us on +91- 9773973971 or visit our website for more information.

Author
Sameer Vats
Associate Consultant