People have kept their data on hard drives and memory cards before the introduction to cloud storage device. Computers and mobile phones require physical proximity to the device to access the data which is stored. Large companies store this data on large servers hosted in data centers. This data can be found only by a user having access to the corporate network. It cannot be found on the Internet or when the user tries to access it from somewhere other than his standard location. Having cloud computing services adds a feather for small business in more ways than one.
The individual devices and corporate servers require complete support and maintenance and preserving the security of this data remain a challenge.
How Can We Define Cloud Storage And Its Importance Towards Small Businesses?
A cloud computing service provider or a cloud hosting company makes a provision of a definite size server space to clients, who utilize it to store data. The client can own the stored data, the company which operates and maintains the hardware and the cloud host gives out non-stop accessibility to client data, providing protected access as required by the clients. The data would be stored across one or many servers, organized by the cloud hosting company in these data centers.
The cloud based services concept holds back to the 1960s, though it has gained popularity in the past few years because of enhanced Internet infrastructure giving faster access to remotely-hosted data. Businesses are quickly moving to cloud hosting, as it deals promptly with the difficulties of local server maintenance, costs associated with server maintenance, and definitive security concerns. The trending market of cloud hosting includes large giants such as Amazon.com, Inc and Microsoft Corporation and behemoths like Intel are investing largely in supporting technologies.
The top cloud computing companies and storage solutions for small businesses are as follows and we bring these options to you so that you don't have to look around.
Amazon Web Services
AWS has brought a transformative impact on small businesses through a slew of measures such as a price-as-per-use model, business solutions for storing and processing data to improve workflows, etc. The suitable package for small businesses is Amazon Simple Storage Service (Amazon S3). The advantage of Amazon S3 is that data becomes accessible from any internet location, also giving robust backup and disaster recovery.
The AWS cloud has a wide range of storage management options, each of which has a specific use case. The most popular types of Amazon storage options are:
Amazon Simple Storage Service (S3)
Amazon Glacier
Elastic Block Storage
AWS Storage Gateway
AWS cloud storage gives data security through data encryption, data backup, convenient data recovery, and safety from hackers and data loss.
Dropbox Business
The Dropbox Business enterprise solution makes space for large and/or dispersed teams to properly share content kept in a secure online location. Businesses can build a novel cloud storage atmosphere arranged around the tools and applications for everyday use, with an advanced API (application programming interface). Dropbox administrators can easily give permissions and deal with users, which is critical for security. Dropbox also has its Magic Pocket storage system which allows users to upload and access their files on the go, making it perfect for small businesses.
Box
Box is a storage solution for enterprises created with businesses in focus. Box emphasizes security with the help of managers providing multiple options to specify access levels for all kinds of individuals and teams. Box has many security features such as auto-expiration on important documents, rules of data retention, transferable security controls, and access and user reporting. These levels of access and multiple tools give company management plenty of regulation over who has access and to which documents.
The workflow management tool of Box is called Relay, which uses the visualization of workflows and prompts to improve the performance of processes. Relay makes it easy to completely automate repetitive tasks, involving things such as invoicing and onboarding. Box deals with the efficiency of all facets of content management, the workflow of the processes followed in the organization, and collaboration.
Microsoft Onedrive
OneDrive for Business is built in a manner to integrate with other Microsoft tools and is called the favorable option for office employees using Microsoft Outlook and Office 365. Files can be deployed and shared in the cloud directly from the app, making the process of collaboration faster and smarter.
OneDrive sustains offline editing, which is a critical capability for business people and teams operating remotely from different time zones. Users can edit a document directly, which enables the internal teams, clients, and partners to provide suggestions on the documents being viewed and collaborated on.
OneDrive places importance on security with enhanced encryption, compliance, and multifactor authentication. OneDrive assists users to search for photos and files with strong search capabilities based on the recent history of the user.
The OneDrive interface is closely similar to Dropbox and seems familiar to people who currently use Microsoft products.
Small Businesses Should Prioritize Their Needs For Cloud Storage Options.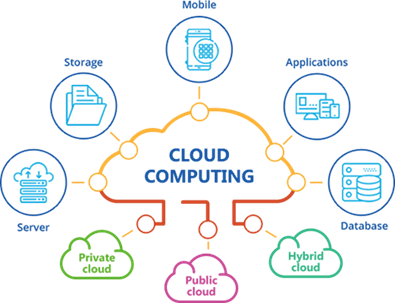 One comes to this conclusion after keeping these storage solutions in preview, that these are some of the most effective storage solutions to be created historically. These storage solutions and others like Microsoft Azure, Openshift Redhat, and others for cloud security and storage are trusted solutions in the market and small businesses would be able to gain plenty of advantages because of the features provided by these solutions. Small businesses especially need access to a cloud storage network that allows storage of the file system of the organization, rapid scalability in case the number of customers increases, high performance, and some degree of flexibility in collaboration.
We, at Zindagi Technologies, are a trusted cloud computing services provider having partnerships with the storage solutions of these companies mentioned above and we will be able to leverage the cloud services of these storage solutions for the maximum benefit of your small business. Our team of experienced engineers and consummate professionals who specialize in cloud computing solutions for storage will be able to provide you with specialized services to meet your storage requirements.
Please give us a call at Ph: +91 97739 73971 to have an experience of the variety we provide. Similarly, we also provide a variety of other services like Hybrid Data Center and Hybrid Cloud Services, Managed IT services, Disaster Recovery services, etc. We want to make your lives better and simpler and for that purpose, we stand abiding by our vision- to empower businesses through the development of innovative technology solutions and services.

Author
Arpan Jyoti Mitra
Sales & Marketing