We will briefly explain about Cisco CIMC and how update and upgrade are used interchangeably but have different meanings.
This will further explain:
What to expect when you want to upgrade your CIMC device,
Why should one do so,
What are the challenges,
What are the steps or procedure?
How these are different from the normal up-gradation procedure.
With the help of this, you will be prepared to upgrade your CIMC device and will be able to foresee any challenges that may have arisen during the upgrade procedure.
What is Cisco CIMC?
The Cisco Integrated Management Controller (CIMC) is the management service for the C-Series servers. CIMC runs within the server.
CIMC provides options like WebGUI, CLI, and IPMI for management/monitoring tasks. CIMC runs on a separate chip on the C-Series servers and thus is able to provide services in case of any major hardware failure or system crash. CIMC is useful for the initial configuration of the server and troubleshooting any problems in server operation; however, CIMC cannot be used for tasks like deploying an OS, deploying software patches, install software applications, and manage external storage.
How Will We Differentiate Update and Upgrade?
The understanding of an upgrade can get mixed up with its homonym: Update.
These two terms are used interchangeably but have different meanings in different contexts. For example, a Windows PC upgrade means that there is a major change and number jump in terms of software version, whereas an update is a software patch to fix bugs, knows issues, etc. without changing the software version.
In Linux, the update command only updates the package list with the latest available versions, however, the upgrade command actually upgrades and installs the latest versions of packages that are already installed.
Here, we will be using the term upgrade. Which means the CIMC version will be getting a version bump with major changes and new feature. One of the new features introduced is support for HTML5 which is the main reason for our upgrade and is explained in the following section.
Why Should We Upgrade?
As we all know Adobe Flash Player has been deprecated as of 31st December 2020 which means it will no longer be supported by most modern browsers. The challenge here is that the old versions of CIMC runs on Flash and our updated browsers will not support Flash, so while the CIMC login page will be reachable but you will not be able to login. To get HTML5 support on the CIMC we need to upgrade. While this is one of the main reasons for upgrading, there are numerous other fixes/updates available in the new version which are listed in this changelog.
What are the Challenges & Solutions
1. Maintenance Window
A live environment can be cumbersome as no one likes to hear that their network could face issues. So, it's best to schedule the upgrade during hours with minimal to no activity on the network.
2. Which version to get?
This can be slightly tricky as there are multiple versions of CIMCs available.
Follow these steps to get your updated version:
1. Find out your current BIOS version. For e.g. C220M4.2.0.10e.0.0620162104
2. Find out your UCS Platform version. E.g. UCSC-C220-M4S
3. Perform a quick Google search for the latest firmware for your UCS Server.
3. Old CIMC with New Browser
Your new Chrome/Firefox browser will not support Flash and CIMC will only run in Flash. In that case, you need to get the following software to open CIMC:
Adobe Flash Player version 30.0.0.154
Pale Moon Browser version v29.0.1 (Firefox fork)
Reality
– Make sure the correct ISO file has been downloaded for your UCS server as described in the previous section.
– Login to CIMC and navigate to "Launch KVM Console."


Click on open with Java launcher.

Click on Continue then Run and then Continue again.

Once the KVM Console is open, navigate to Virtual Media à Activate virtual devices.

Click on "Accept Session", and then "Remember choice".

Navigate to Virtual Media à Map CD/DVD

Browse to file in the system (ISO File)
Click on Map Device

Navigate to Power à Power Cycle System (Cold Boot)
Wait for POST (15-20min) and then on the boot selection screen press F6.
Wait for some time for the UCS upgrade tool to load, after which the following screen will be presented
Click on Agree.
There are multiple components as part of the upgrade. We need to upgrade each component individually. But this needs to be done sequentially not all of them together. So, choose the first component Cisco IMC and click on Update. Make sure the update process is not interrupted in any way.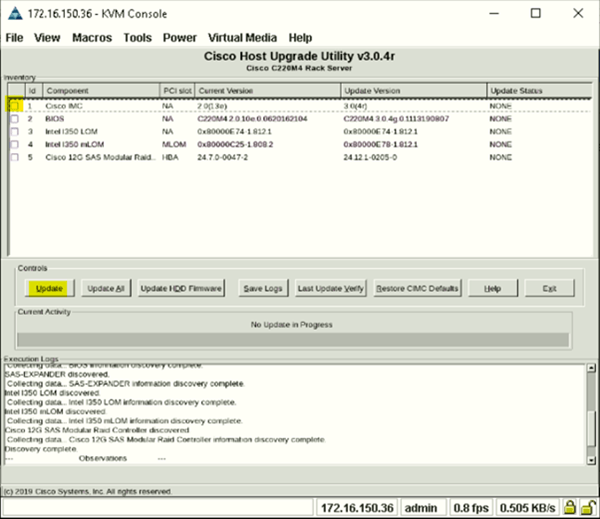 Once the update completes (highlighted in Green), choose the next component and click on update. The first 2 components usually take more time than the others.

Once all components are updated, click on "Exit."
After pressing Exit, wait for some time for UCS to reboot. Can initiate ping to keep track of when the device boots.
After reboot, open the CIMC GUI URL in the browser of your choice and should be presented with this page.
To verify updated BIOS:
1. Login to CIMC
2. Navigate to "Toggle Navigation" in the top left corner.
3. Admin à Firmware Management
The following should be displayed


Now we know what exactly CIMC is and what it does, how people can often get confused with the terms upgrade and update, and what challenges one can face while updating their CIMC. Hope this blog post has been helpful and has helped you save you the headache and precious time by foretelling the issues one could face.
If you are still having issues with this or need any further suggestions or support, please feel free to reach out to us or call us at +91 9773973971 we will be glad to help you.
Author
Anant Seth
Network Consulting Engineer