Our goal as a Network Security Engineer is to be able to provide security of communication and restrict access from insecure networks. E.g. Internet. We use Firewall very commonly to restrict unwanted communication between various private networks and public networks. Cisco offers an NGFW Solution called Cisco Firepower Threat Defense. In this blog, we will discuss the management options of Cisco FTD, Use Cases, and Best practices.
Management Options for Cisco FTD
Firepower Device Manager
Manages a single Firepower Threat Defense
Default device manager
Included in all Firepower Threat Defense software
Can co-exist with cloud based management platform, Cisco Defense Orchestrator (CDO)
Firepower Management Center (FMC)
Helps Administrators to enforce consistent access policies in all FTDs
Rapidly troubleshooting security events
Generate summarized report across the deployment
Centralized on premise management across multiple Firepower platforms
Reduces complexity of manual policy configuration through inheritance and template use
Cisco Defense Orchestrator
Consistently manage policies across your Cisco security products. CDO is a cloud-based application that cuts through complexity to save time and keep your organization protected against the latest threats
Supports ASA, FTD, WSA, Meraki, IOS, AWS
Faster device deployments
Cross platform object and policy management
Choosing an Appropriate Firewall Manager

Common Use Cases for NGFW
NGIPS
Internet Edge
Branch
RA VPN
Data Center
Cloud/Virtual
Best Practices for Logging
Enable connection logging on a per access-control-rule basis
Don't enable logging for access rules with trust action
Don't enable logging for rules with block action in passive mode
Log either at the beginning or end of the connection (not both)
Log events to an external location
Best Practices for Enterprise Branch
Leverage Site-Site VPN to create a backup for WAN or MPLS failure
For S2S VPN use IKEv2 – better performance, conserved bandwidth
Prevent overlapping networks across the branches
Think about sysopt permit-vpn
Apply strong encryption (license dependent)
Best Practices for RAVPN
Build a resilient solution to provide seamless access
Preferred deployment mode is Routed
Use multiple connection profiles based on the authentication type
Leverage Group policies for user-specific attributes
Use NextGen security controls and create specific access rules
Make use of split tunnel with other security controls like Umbrella
Best Practices for NGIPS
Build a resilient solution leveraging fail-open, fail-close capabilities
Leverage Inline mode for critical network segments
Leverage Passive mode for non-critical network segments
Be specific in configuring Variable Set and Network Discovery Policy
Leverage Firepower Recommendations and Impact Flag Analysis
Do selective TLS Decrypt & forward Logs to SIEM for long term storage
Best Practices for Internet Edge
Build Device, Link & Interface Level Redundancy
Preferred deployment mode should be Routed
Modify the default policies with your network specific values
Use RBAC for clear segregation of duties and access
Use rule grouping for separation of Trusted & Untrusted rules
Do selective TLS Decrypt & disable logging when not needed
Best Practices for Data Center
Build Device, Link & Interface Level Redundancy
Prefer Routed mode for Edge and Transparent for Core
Use Segmentation: TrustSec, ACI & Multi Instance
Be aware of clustering positioning, sizing, and supported features
Implement selective logging and use APIs for automation
Use Hardware Flow Offload & do selective TLS decrypt
Best Practices for Cloud & Virtual
Build a scalable design with Native/3rd Party LLB
Connect your virtual appliances to FMC either on cloud or local on-prem
Leverage various available tools to identify cloud APP's and put controls
Use RBAC for access separation and granular policies to avoid policy risk
Leverage logs and uses Firepower Recommendations
Recommended Manager and OS per Use Case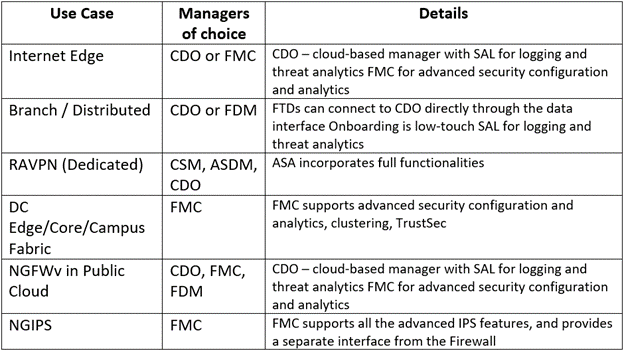 Are you planning to deploy Cisco FTD Firewall for your environment?
Do you want a Green-field Deployment, Tech Refresh, Migration from your legacy Firewall or any Firewall to Cisco FTD or for implementing advanced features in your already deployed FTD Firewall for your personal or private network or your organization? You can always reach out to us, the team at Zindagi Technologies consists of experts in the field of Network Security, Data Centre technologies, Enterprise & Service Provider Networks, Virtualization, Private Cloud, Public Cloud, Data Center Networks (LAN and SAN), Collaboration, Wireless, Surveillance, Openstack, ACI, storage and security technologies with over a 20 years of combined industry experience in planning, designing, implementing and optimizing complex Network Security and VPN deployments. You can drop us an email or you can give us a call at +91-9773973971

Author
Harpreet Singh Batra
Consulting Engineer- Data Center and Network Security