The Firewall means a device/system/software. We use it to secure a trusted network from an untrusted network. We defined policies on the firewall to allow the trusted traffic or to stop unauthorized access.
Now, the firewall is not used only to allow and disallow the traffic, it also comes with multiple features of filtering Network Devices, for example: -Application Firewall – It has IPS and Deep packet inspection and other benefits like:
AV Inspection
Web Filtering
Integration (AD, LDAP, etc.)
SSL Encryption
This type of firewall is a Next-Generation Firewall, which is very useful to secure your home and your corporate network from threats/attacks/unauthorized access. It monitors the outgoing and incoming traffic using deep packet inspection.
Why You Should Choose FortiGate Firewall?
FortiGate NG-Firewall uses security processors and threat intelligence services. It conveys top-of-the-line assurance, elite investigation, and encoded traffic.
NGFW diminishes the effect on your pocket by reducing the cost and intricacy with full visibility into clients (Users), Networks, and applications. NGFW can speak with Fortinet's devices as well as 3rd party devices to increase network security and provide threat insight.
In the above image, you can check that when a threat/anomalous traffic or packets from an unauthorized source/destination comes to Firewall then the firewall drops the traffic and only allows the trusted/allowed traffic.
Deep Packet Inspection
Deep packet inspection (DPI) is a high-level technique for examining and overseeing network traffic. It is a type of packet filtering that finds, recognizes, reroutes, classifies, or blocks packets with code payloads or explicit information.
DPI uses as a firewall feature; it works on the application layer of the Open Systems Interconnection (OSI) reference model.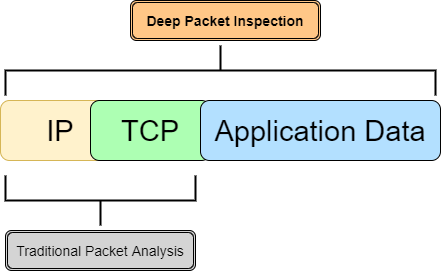 5 Use Cases for Next-Generation Firewall (NGFW)
Securely empower all necessary applications: It helps to detect attacks against enterprise applications. It enforces the application controls, monitors application information, and substance. monitor SNMP, HTTP, HTTPS, and other protocols as well for better security.
Protects against known and unknown threats: It uses Deep packet Inspection to inspect the packets and controls the network applications. NGFW gives a tough defense against threats against your web applications.
Single Network Security device that can do almost everything: A NGFW has all the features like- Firewall, IPS/IDS, Antivirus, Filtering, NAC, and so on.
It provides visibility into clients, applications, hosts, and content in the organization network: It reviews applications that are running in your organization's network, monitors their traffic, distinguishes hosts on which applications are processing, recognizes users of the application.
You always want a High-Performance Firewall that can integrate with other security devices: It provides High-Performance and can be integrated with security tools like Cloud Sandboxing, SIEM, etc.
Now you know about FortiGate Firewall and Deep Packet Inspection, how it is very useful to our home and corporate networks. Hope this blog post has been helpful and gives you a better understanding. In the next blog, we will cover FortiGate Firewall installation in Vmware.
Zindagi Technologies is an IT consulting and professional service organization that will your business objectives by giving innovative strategies. Having a team of tech geeks, we deliver path-breaking innovations that will help grow your business. Let's get connected over a call on +919773973971 or you can drop us a mail also.

Author
Jagjeet Singh
Senior Consultant – Network Security