For the network operation, it is critical to monitor the bandwidth utilization, device health, and metrics. Cisco Prime Infrastructure is a single graphical interface Network monitoring tool that is used to monitor, configuration, Mapping, Manage Inventory, create & view the report manually and automatically. In this blog, we will know the Importance of Monitoring tools in the network and Installation, the pros and cons, and some features of Cisco Prime Infrastructure. There are many types of monitoring tools are available like SolarWinds, Cisco Prime Infrastructure, Nagios XI, Site24x7, etc.
Installation and Hardware Requirements

Cisco Prime Infrastructure can be installed by two methods

Virtual: – Cisco Prime Infrastructure can be a Virtual appliance is in an OVA file, which should be installed on a VMware ESXi server with capable of minimum requirements. Find below PI server minimum requirement
Physical: – Cisco Prime Infrastructure can be a physical appliance. For Physical appliances, the ability and hardware prerequisites should be matched. There are some releases 3.x to 3.9, 3.9 is the latest release of Cisco Prime Infrastructure. Mostly usable version 3.4 Cisco PI support UCS (Unified Computing System) base PRIME-UCS-APL-K9 (Gen2) appliance. This does not support NCS base appliances.

Supported Scale for Prime Infrastructure Installation Options (includes Assurance).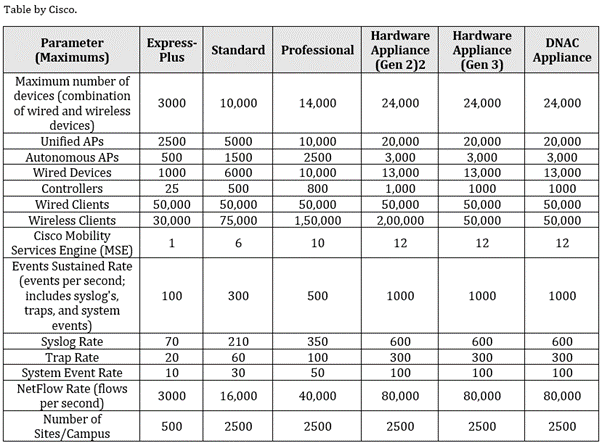 Cisco Prime Infrastructure Terminology
Cisco PI working on SNMP base to fetch the real-time data for network devices and real time, clients. From an SNMP configuration perspective, we need to configure it on the end device which needs to add to Cisco PI. We must match the below information while configure and adding the device in Cisco Prime Infrastructure-
SNMP Server host IP address correctly configure on end device which must be the IP address of Cisco Prime Infra.
SNMP Server user name and group should be configured.
SNMP Version (v1,v2c, & v3) which is configured on the end device should be matched with Cisco PI.
The authentication method should be the same on end-devices and Cisco PI.
The end device should be reachable with Cisco PI.
Telnet/SSH version and credential should be matched with Cisco PI.
HTTP/HTTPS with TCP port no and additionally we can add the location of devices in the Civic Location parameters tab on Cisco Prime Infra.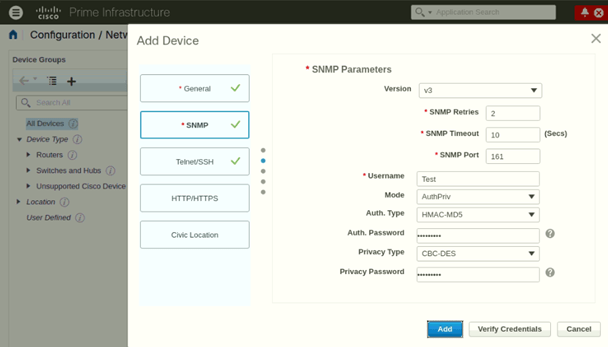 Brief Overview of Cisco Prime Infrastructure
Monitor (Dashboard): Dashboard of Cisco Prime Infra will provide the monitoring page which can customize by the admin and monitor the client's count and overview of Devices ICMP, SNMP, Alarm, utilization, etc. In the dashboard settings menu, we can add, remove, rename, or add the dash-let(s).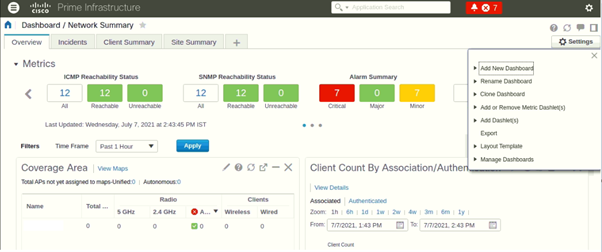 For others feature like Configuration, Maps, Services, Reports, Administration, steps of taking backups, steps to adding the devices, set and create the reports these all steps will cover in the next blogs.
Cisco Prime Infra Pros
As we see Cisco PI provides the real time monitoring feature which is an important thing for minimizing any outage time and proactive environment.
Cisco PI has the ability to configure the network device and IOS image upgradation, backups, and check the health remotely.
It is a single pane of glass management that is rapidly helping to manage compliance management, change, provisioning, and assurance of devices from a single platform.
It is in High Availability so devices will be Active and Standby mode. The big advantage of this scenario is very minimal fluctuation at the time of failover.
Cisco Prime Infra Cons
Cisco Prime infrastructure is a cisco vendor-specific tool that only provides the feature for cisco devices. If we have third-party vendor devices like Juniper, FortiGate, Brocade, etc. this tool does not support it.
Cisco PI does not support the latest Cisco technologies such as ACI.
Cisco Prime Infrastructure provides the performance monitoring, network devices configuration, provisioning, and devices health monitoring with providing the metrics of network part connectivity which is a very critical and significant role for network prospective. In this blog, we have mentioned some installation and features, Pros & Cons. For more details related to configuration steps, adding devices, and troubleshooting part we will cover in the next blog.
If you think of any new implementation or choose the best tool for monitoring and configuration like Cisco PI, us on email a or any other tool, kindly reach out to us. The Zindagi technology assists if any new implementation or migration of any technology please reach us on the mail or call at +919773973971.

Author
Brijesh Yadav
Network Consultant Engineer