As we know today's Organizations have a big security concern. Signatures are very important to mitigate various types of attacks. Many vendors provide security solutions like NGFW (Next-Generation Firewall), IPS, and IDS. Mostly server-side, and client-side attacks are identified by the signatures. Every Security vendor has an internal Malware Analysis, Incident Response, and Threat Hunting team. That is research on malware and different types of attacks and creating signatures to provide security to clients using vendor devices. Nowadays keeping the signature database up to date is a very important task for IT Administrators. In this blog, I will show you how to update the Radware Devices Signature database via APSolute Vision. We are using Radware DefensePro to demonstrate this process.
Prerequisite – Radware DefensePro
You have active Customer Contract credentials of Radware.
In your organization, APSolute Vision must be deployed.
You have a valid SUS (Security Update Subscription) subscription of DefensePro.
Before we proceed further it will be good to get a high-level understanding of DefensePro and APSolute Vision.
Radware DefensePro
It is a part of the Radware attack Mitigation Solution. It provides automated DDOS protection from encrypted or very short-duration threats. It prevents IOT-based, DNS, Burst-attack, Server-side, Client-side attacks, and many more.
APSolute Vision – Radware DefensePro
APSolute Vision is part of a Radware Management Solution. It is used to centrally manage the Radware devices. In this blog, we manage our DefensePro from APSolute Vision.
We are not covering so many details about the product. We will just focus on updated signature files on Radware Devices via APSolute Vision.
Downloading Signature File
Step-1 We have to go on the Radware support portal and click on Password/License Generator Tab log in with valid credentials which are bound with a valid contract.
After logging in below page appears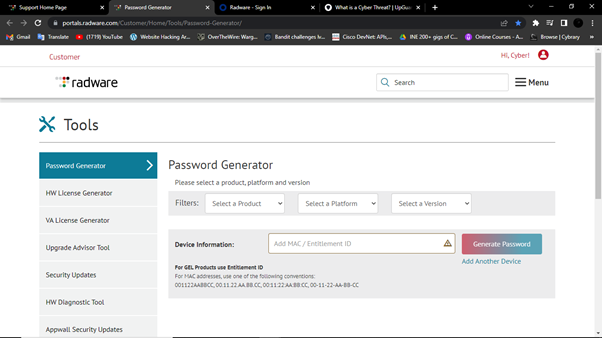 Step-2 Click on the Security Updates tab and download the latest signature files.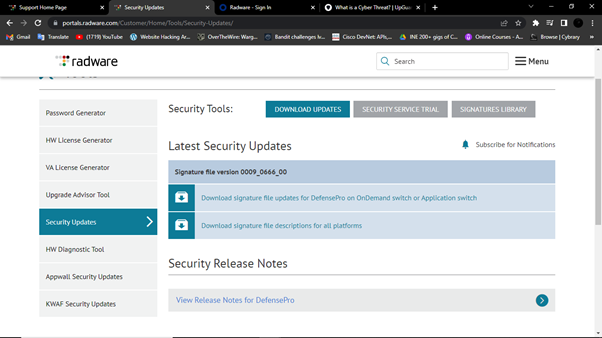 Note: – If you do not have a valid contract ID 1st Download option is hidden and you will not be able to download the signature file.
Once you downloaded the signature file below is the procedure to update the signature file in Defense Pro.
Update Procedure
Step 1: – Log in to APSolute Vision, expand sites and devices and choose DefensePro which you want to update signature files.
Step 2: –
Click the arrow on the operation icons.
Select Update Security Signatures.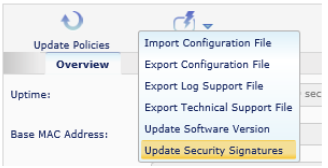 Step 3:-
Select Signature type: Radware Signature
Select Update from: Client
After selecting the file click on the update button. Your Upgrade will start shortly.
You can check updating status right corner of the APSolute Vision Dashboard.

Then your device will be restarted, and you successfully updated your Radware DefensePro Signature Database.
If you want to gain more knowledge about NIPS. We have previously written blogs on our website so you can check them.
Zindagi Technologies is a growing company in the IT sector. It will provide Network Architect Solutions, Data Center Solutions, and help to secure your Organization's IT Infrastructure. We will also provide Cyber Security Solutions. If you want to secure your network, Data Center, and Internal Applications, You can contact us and drop a message at +91-9773973971.

Author
Shivang Trivedi
Associate Consultant