Cisco UCS stands for Unified Computing System. It is an integrated computing infrastructure with intent-based management to accelerate and automate the deployment of all your compute infrastructure, including cloud computing and virtualization, bare-metal and scale-out workloads, and analytics, as well as edge computing that supports remote locations. This blog provides you an overview of the major components of Cisco UCS i.e., unified computing resources, unified fabric, and unified management.
Types of UCS Servers
Majorly Cisco offers 3 types of UCS Servers to meet computing requirements. Below mentioned are the types.
Cisco UCS C Series Rack Servers
This Category of Servers addresses workload challenges through efficient processing, memory, I/O, and storage capacity. These are Rack-mount servers and C-series indicates to Compute which means there are more processing efficient servers. Know more about the UCS C-Series.
Below mentioned is the image. (Image Credits – CISCO)



Cisco UCS S Series Rack Servers
This Category of Servers is storage-dense servers that provide unified storage in an industry-standard form-factor to reduce TCO. These are Rack-mount servers and S-Series indicates storage which means there are more storage efficient servers and do not require additional/centralized storage. Know more about the UCS S-Series
Below mentioned is the image. (Image Credits – CISCO)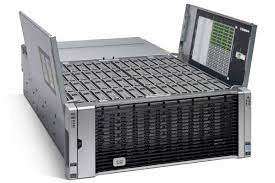 Cisco UCS B Series Blade Servers
This Category of Servers is Blade Servers which gets installed in a Blade Chassis. It improves server performance with a flexible, scalable architecture and lower TCO. The B-Series indicates to Blade which means it is a Blade solution. Know more about the UCS B-Series.
Below mentioned are the images of Blade Chassis and Blade Servers. (Image Credits – CISCO)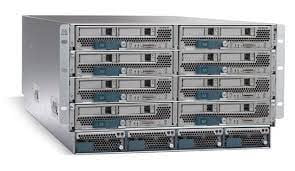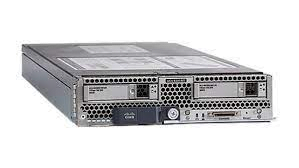 Unified Fabric Management
Another key component of Cisco UCS Solution is Fabric Interconnect which is a unified switch installed with a Software called Unified Computing System Manager (UCSM). Fabric Interconnect is a core component of UCS Solution. It is a hardware switch that provides the below-mentioned features.
Network Connectivity to both LAN and SAN
UCS infrastructure management through the embedded management software (UCSM) for both hardware and software management.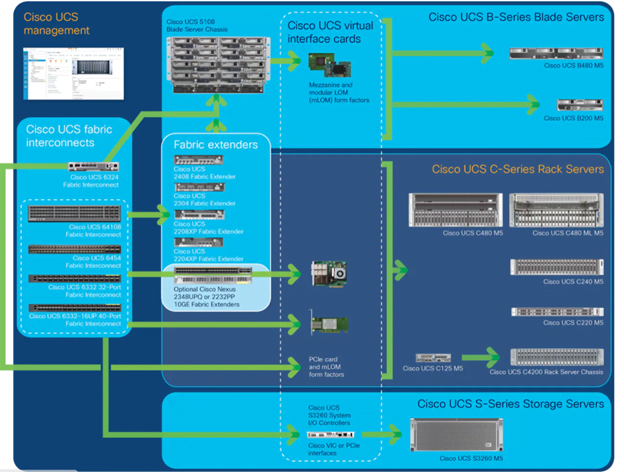 Above mentioned is the image of the UCS Management/Fabric Interconnect solution with respect to UCS Servers.
Key Features of Cisco UCS Solution
Simplified Troubleshooting
Replacement of servers is very easy in Cisco UCS Architecture. As the UCS Blade servers are stateless, as soon as a replacement server is physically installed, it will consume all the configuration of the old Blade server and will be available to use for the newly installed server. Blade Servers can also be easily migrated for different roles and workloads.
Virtualization Readiness
Virtualization in the form of bare metal hypervisors is a major breakthrough for the utilization of computational resources. Cisco UCS solution supports all major hypervisor platforms including VMware ESXi, Microsoft Hyper-V, etc. Support and integration with VMware vSphere solutions are very strong. UCS Manager can be integrated with vCenter to consume and manage features at the individual Virtual Machine (VM) level. By using the benefits of virtualization and increasing the quantity of the physical server, the UCS solution can scale up to thousands of Virtual Machines.
Stateless Computing
Cisco used the concept of stateless computing for its B-Series Blade server architecture. Cisco B-Series Blade servers do not have any preconfigured configuration. Media Access Control (MAC) addresses, Universally Unique Identifiers (UUIDs), storage World Wide Node (WWN) numbers, Network Interface Cards (NICs), firmware, and BIOS settings are all consumed from Unified Computing System Manager (UCSM), the management software for UCS Fabric running on the Fabric Interconnects (Part of Cisco UCS Solution).
Choice Of Industry-Standard Form Factors
Cisco UCS servers are available in 2 major categories: B-series blade servers and C-series rack-mount servers. Both form factors are designed using the same industry-standard components and can address different computational requirements. Both B-Series blade servers and C-Series rack-mount servers are designed with Intel Xeon CPUs. B-series blade servers can only be managed through UCS Manager, whereas C-series rack servers can either be individually managed or can be managed by UCS Manager.
Rapid Provisioning Of Servers
Provisioning of servers can be provisioned using the UCS Manager before they are physically installed in Blade Chassis. Once the server is physically installed, it will take its identity from UCS Manager. Using server configuration templates, it is possible to create a server profile template only once and apply the template to many servers.
Extended Memory Technology For Increased Density
Cisco also introduced an extended memory technology for 2 CPU socket servers to increase the total amount of memory support in Blades, this can be more than the amount of memory as compared to the other industry standards for 2 CPU socket servers. Virtualized workloads can use this additional memory to support an even greater amount of Virtual Machines in a reduced physical infrastructure, resulting in reduced Capital Expenditure (CAPEX) and Operational Expenditure (OPEX) costs. Extended memory technology is available in both types of UCS Servers i.e. B-series blade servers and C-series rack-mount servers.
Are you planning to deploy Cisco UCS Solution for your Data Center?
If you are planning for a Green-field Deployment, Tech Refresh, Migration from your legacy Compute infrastructure to Cisco UCS Solution or for implementing advanced features in your already deployed Cisco UCS Solution. You can always reach out to us, the team at Zindagi Technologies consists of experts in the field of Data Centre technologies, Virtualization, Private Cloud, Public Cloud, Data Center Networks (LAN and SAN), Collaboration, Wireless, Surveillance, Openstack, ACI, storage and security technologies with over a 20 years of combined industry experience in planning, designing, implementing and optimizing complex Data Centre and cloud deployments. We will be glad to help you.
For any inquiries, please reach us on email at [email protected] or call us at +919773973971.

Author
Harpreet Singh Batra
Consulting Engineer- Data Center and Network Security