Jabber is a communication Software provided by Cisco. This Software includes Instant Messaging, and Voice and Video Communication. Jabber can be Installed from the App Store, Google Play store, and installed on your desktop Making easy use across all platforms. The main feature of Jabber is that it provides mobility, unlike hard phones. Moreover, it provides the real-time presence status of the other users to avoid any delays in communication. Cisco Jabber delivers instant messaging, voice and video calls, voice messaging, desktop sharing, conferencing, and presence.
Cisco Jabber On-Premises
To deploy Jabber on Premises you need to have prerequisites such as Cisco Unified CM, Cisco Unified CM Instant Messaging and Presence (not required if plan is to deploy Phone only mode), DNS Server, LDAP, Voicemail(optional), Cisco Meeting Server (so you can have conference meetings on Video), Cisco Expressway (If a plan is to access Jabber via the Internet).
Jabber registration starts with Service discovery. It does service discovery in 3 types.
_Cisco-uds._tcp.domain.com

_Cup-login._tcp.domain.com

_Collab-edge._tls.domain.com
Make sure you have enabled the required services on Cisco IM & Presence server.
Open the Cisco Unified IM and Presence Serviceability interface.
Select Tools > Control Center – Feature Services.
Ensure the following services are started and activated:
Cisco SIP Proxy
Cisco Sync Agent
Cisco XCP Authentication Service
Cisco XCP Connection Manager
Cisco XCP Text Conference Manager
Cisco Presence Engine
Select Tools > Control Center – Network Services.
Ensure Cisco XCP Router Service is running.
On-Premises Jabber can have either of 3 Deployment models –
Full UC – For this mode, a separate device is created with all required user mapped for functionalities such as Voicemail, Conferencing, Audio/Video, Messaging.
IM-Only – For IM-only mode, only instant messaging is allowed. The users are not provisioned with devices in this mode.
Phone-only – In the phone-only mode, the user's primary authentication is to Cisco Unified Communications Manager. To deploy phone-only mode, provision users with devices for audio and video capabilities. You can also provide users with additional services such as voicemail.
Cloud-Based Deployments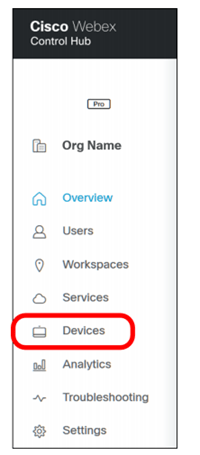 A cloud-based deployment uses Cisco WebEx to host services.
For cloud and hybrid deployments with Cisco WebEx Messenger, you manage and monitor your cloud-based deployment using the Cisco WebEx Control Hub. While using Cloud-Based deployment Users have the features to access Contacts, Presence, Messaging, Audio/Video, Conferencing (Provided by WebEx platform service)
WebEx Hybrid deployment provides all features including voicemail as well.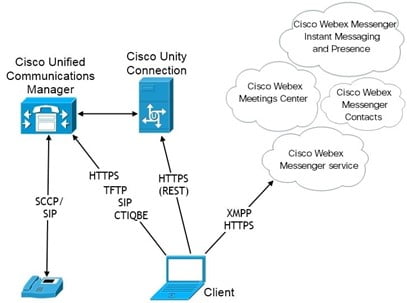 Enterprise Mobility Management Deployments
Jabber supports two SDK-based clients for Enterprise Mobility Management (EMM) deployments:
Cisco Jabber for Intune
Cisco Jabber for BlackBerry
Your organization can deploy these clients to enforce policies for using Jabber on mobile devices in deployments that allow "Bring Your Own Device". For example, these policies can:
Prevent the use of insecure jail-broken or rooted devices.
Enforce minimum OS and app versions.
Prevent users from copying data in Jabber and pasting it into another app.
This one is commonly used, Remote Access Jabber or commonly called Mobile Remote Access which is deployed using Cisco Expressways acting as a VPN Less solution.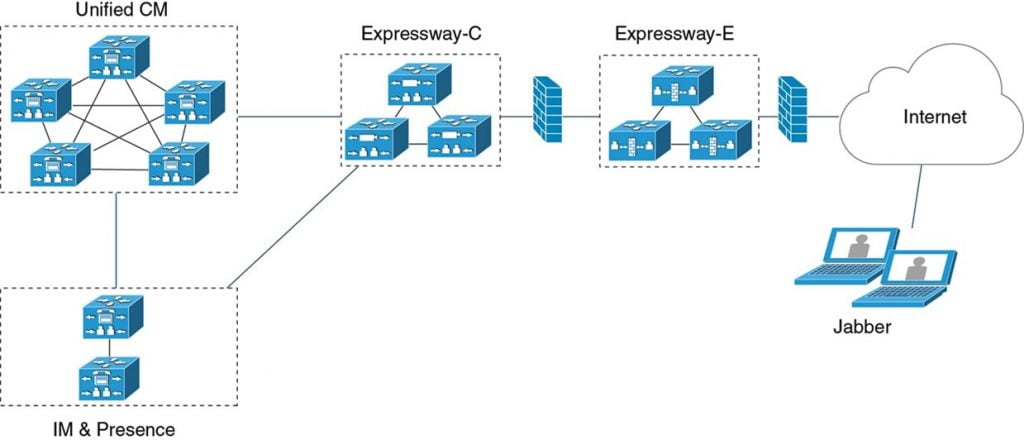 Mobile & Remote Access provides end-users video, voice, and chat capability anywhere, on any device, anywhere in the world. This feature went active in x8.1 and gives customers the ability to provide VPN-less access to Jabber and Physical Endpoints.
The solution allows Jabber clients to securely traverse the enterprise firewall and access collaboration services deployed on the enterprise network.
Remote Jabber clients will have access to voice/video, instant messaging and presence, visual voicemail, and directory lookup services.
Cisco Expressway is an important part of the Collaboration Edge Architecture offering a mobile and remote access alternative to VPN.
This was just an overview of Cisco Jabber and its deployment models, although this is a very big topic. These deployment models can go very deep with requirements aligned.
We hope this article gives you an understanding of the Cisco Jabber Deployment Models.
Are you looking for consulting, advisory and professional services to deploy a Collaboration Environment for your organization? Zindagi can help. Zindagi Technologies Pvt. Ltd. is an IT consultancy and professional services organization based out of New Delhi, India. We have expertise in planning, designing, and deployment of collaboration environments, large-scale data centers, Private/Public/Hybrid cloud solutions. We believe in "Customer First" and provide quality services to our clients always. Give us a call or message us at +91 97739 73971.

Author
Rahul Bhukal
Sr. Collaboration Consultant