In this blog, we will go through the step-by-step process of upgrading the Radware Alteon (Server load balancer) from its old to the new version.
What is SLB?
A Server load balancer (SLB) is a piece of hardware (or virtual hardware) that distributes network and/or application traffic across many servers by acting as a reverse proxy. A load balancer is used to increase concurrent user capacity and application overall dependability. A load balancer can benefit by dividing the workload over multiple servers and so reducing overall pressure on each server.
Before we Begin
We will download the software upgrade file from Radware Portal
Select the Platform and Software version to which you want to upgrade.

Click on the Highlighted Model name below Software Downloads and Download the Software Upgradation File.
After downloading We will generate a password for Software Images to upgrade.
Select a Product, Platform, and version for which you want to generate a password then select Software Image Upgrade type.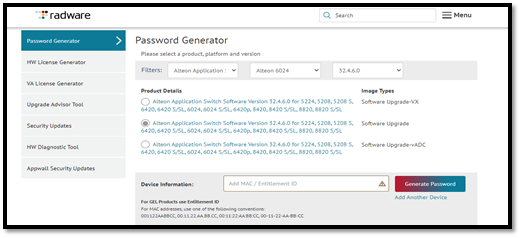 Enter Mac address details of Devices and then click Generate Password (To get the MAC Add. Of Alteon run a command on CLI "info/sys/general").

Upgrade Procedure for Radware Alteon
Step 1-: First we will check the software version by accessing the console of a device and run a command
# info/sys/general
Step 2-: We start Upgrading the device to the latest recommended version. Login to the GUI of a device.
Go to -: System > Version Management.
Click on Upload software to device
Select image ID slot no. 3.
Enter the MAC address of a device.
Enter the version password generated from the Radware portal.
Click Browse then Upload the downloaded image.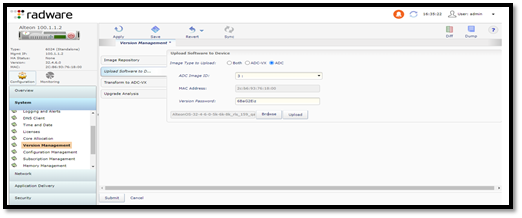 Note:-The upload image status can be checked by placing the cursor over Task in Progress at the bottom right of the bar of the screen.
Step 3-: Click on Image repository
Click on slot no. in which you have uploaded the image.
Click on apply
Click on save

To boot the device from the new image, click the power button (in the Alteon GUI in the top-left corner) and select Reset.

The upgrading process starts then wait some time device will reboot and the software is upgraded.
Radware Alteon
We learned today about how to download and upgrade the Radware Alteon (SLB) version. Stay tuned for the next edition, in which we'll learn about more network security ideas; in the meanwhile, you can read my previous postings here. Meanwhile, Zindagi may be reached at +91 9773973971 for the best security or enterprise network consulting. Simply visit our website for additional details. Zindagi offers data center services, enterprise network deployment, cloud solutions, network infrastructure setup, cyber security, and cloud migration, all of which assist your firm in becoming more technologically advanced. For network security, business networking, server virtualization, data center networking, ethical hacking, and cloud services, we have an experienced and qualified team.

Author
Sameer Vats
Associate Consultant