In our previous posts, we talked about the security advantages of Managed IT Services and the benefits managed IT provides, and how these factors contribute to the management and monitoring of a business to have improved stability, reduction, financial plan, security, and dependability. Getting back to the basics; it is better to know what types of managed IT services are present and how many services are provided by Zindagi Technologies.
Is Everything Covered By Managed IT Services?
Every service provider will have a different contact and the clauses or services offered will be different. It depends on you about what services you need to add to the contract and those will be managed accordingly. It's not necessary that all MSPs will be able to provide you with each and every service. There will be a chance that only a few specialized services will be provided.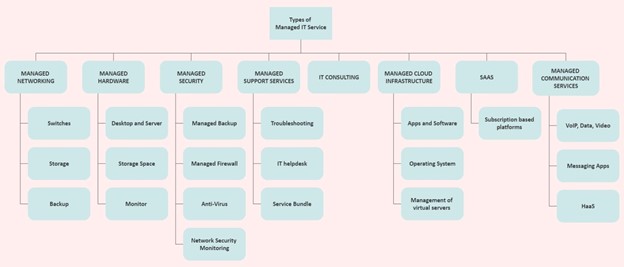 What Are The Types Of Managed Services?
Majorly there are 8 types of Managed Services that are given by almost everyone. These services can be selected according to your need. In the picture, we have mentioned the managed services according to hardware and software requirements.
Managed Networking
Routers and switches are network equipment along with storage and backups. Managed networking covers these monitoring and automating network tasks. All the aspects would be covered in managed networking.
Managed Hardware
Hardware devices like desktops, servers, monitors, storage spaces are regularly monitored in accordance with health and updates. Managed print is another type of hardware and the coverage is the health status of printers.
Managed Security
These 4 categories are the most sought after and are the fastest growing.
Everyone wants to have time-scheduled backups and maintain them in hardware devices, Managed Backup will help you in giving test backup scores and proper management.
Having firewall protection is a must in every business which is why Managed Firewall will give you timely updates on firewalls and will also give regular reports on the status.
Traditional Security includes Anti-virus, Anti-malware, and Anti-spam solutions, and they are included as pack-in Managed Hardware because of being important security measures. This will include constant monitoring and update.
Network traffic also needs to be monitored to have a view on malicious activities or any type of internal accidental leak. Network security monitoring is done to stop the leak of any compromised data and will include vulnerable testing.
Managed Support Services
There are many supported services that can occur anytime and at any place. Suppose an engineer is at a site and they need troubleshooting of the devices that have just been installed. If you have managed support services, then the troubleshooting process will be managed by the service. This service includes troubleshooting, IT helpdesk, amending advanced issues.
IT Consulting
IT leadership is important in most cases as it will help drive the project in the right direction. Zindagi Technologies gives you dedicated IT consulting and leadership that will help in planning strategies, implementation of cybersecurity, and other aspects that will help in meeting your business goal.
Managed Cloud
Cloud management will help in backups a lot as most organizations save their data in clouds. Cloud management is important from a data backup perspective and Managed cloud will also manage your virtual servers. The virtualized handling will be done for apps, software, and OS.
Saas
SAAS stands for software as a service and manages the platforms like Microsoft 365 and apps that need a subscription.
Managed Communication Services
This type of managed service will cover messaging software like VoIP, video, data, and other communication apps as well. SaaS can also turn into HaaS as these are ongoing managed services.
What Are The Specific Managed Services?
The managed services can be broken down by the type of tasks that are being offered by the company or organization. There are a number of managed services that are given by Zindagi Technologies and are mentioned below.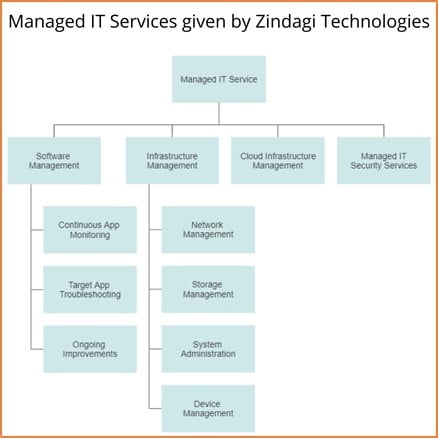 Having knowledge about the tasks that would be included in the package is a must as this will give you an opportunity to choose according to the need considering the IT environment. Call us on +919773973971 and let's get in touch and decide which managed service is the best for your company.  

Author
Shweta
Senior Executive-S&M