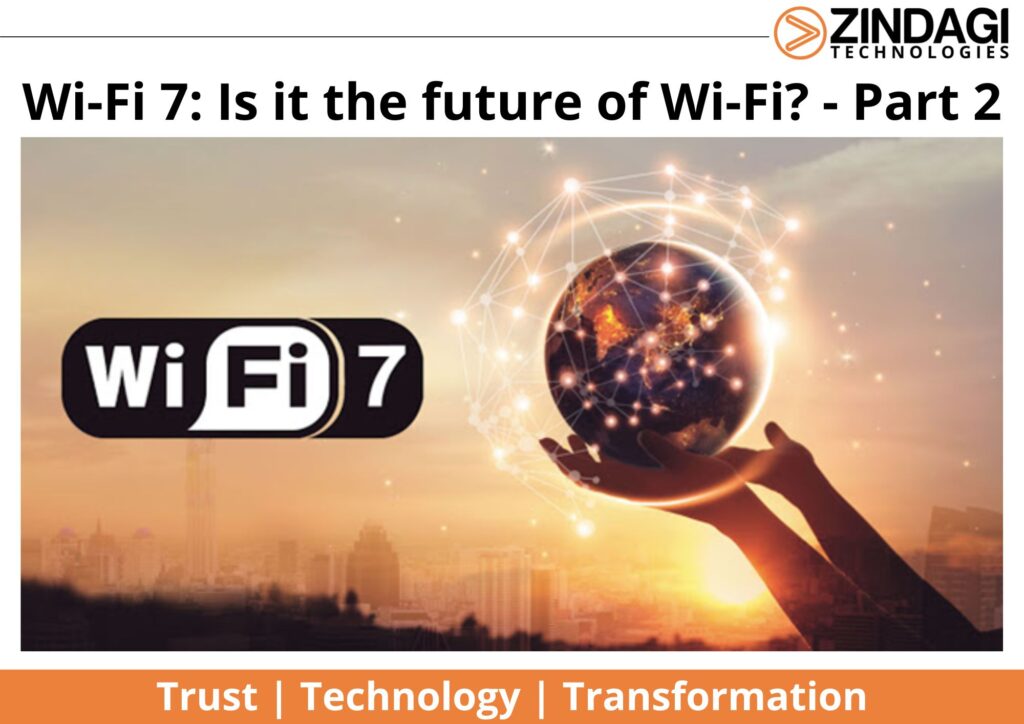 Welcome back to part 2 of the Wi-Fi 7- Is it the future of Wi-Fi? Here we will continue our discussion on the 7th Generation Wireless Technology. Let us start with a thought for the day "How long after walking into someone's house is it acceptable to ask for their Wi-Fi password? -Anonymous." While you give it some thought, we shall prepare to deep dive back into the pond of Wi-Fi 7 and catch and get to know all the fishes that will make Wi-Fi 7 the best. The key enhanced features that are planned to be integrated into devices as well as the features that will be fabricated on Wi-Fi 7 devices are as follows
What shall be the key features or advantages of Wi-Fi 7?

320MHz Channel Bandwidth
Since Wi-Fi 7 shall support three bands, the capacity gained because of using the 6GHz band spectrum shall expand the channel bandwidth up to 320MHz as compared to 160 MHz in Wi-Fi 6/6E. Because of a wider channel more data throughput can be delivered at peak rates of over 40Gbps.
Higher QAM Schema
The Wi-Fi 7 shall support evolved modulation scheme called 4096-Quadrature Amplitude Modulation (QAM) or 4K-QAM. For the new blog readers here, the QAM scheme is used to send and receive data in RF waves. The higher the QAM is, the more information can be packed in. The only drawback of QAM is that as QAM increases its range shall decrease. So to overcome this minor setback a stronger signal (SNR) shall be required to optimally utilize its potential. A technique called Beam Forming shall be used in 4K-QAM to send data to the desired device This shall offer data rates 20% higher than Wi-Fi 6/6E technology that used 1024-QAM/1K-QAM.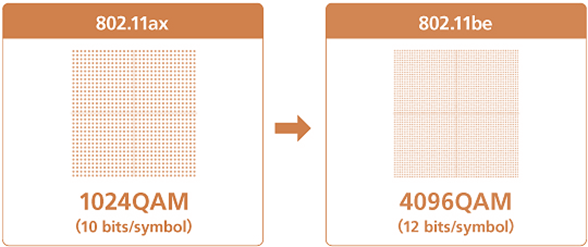 Enhanced OFDMA
The orthogonal frequency-division multiple access technologies improve wireless transmission by establishing independent subcarrier modulation. This technology is a boosted version that is used in Wi-Fi 6/6E, which allocates punctured Resource Units (RUs) to a single station using direct link transmission. This enhanced version shall increase the spectrums efficiency, reduce the latency, and hence improve the user experience
Double MU-MIMO spatial streams
The Multi-User, Multiple-Input, Multiple-Output (MU-MIMO) standard shall support 16 streams to 8 streams in Wi-Fi 6/6E. This feature shall double the network throughput. An enhanced MU-MIMO technique called Coordinated MU-MIMO (CMU-MIMO) for managing data streams transmitted to multiple Access Points (APs) simultaneously is currently under development.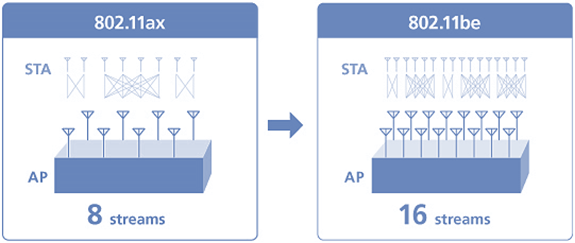 Multi-Link Operation (MLO)
The most thrilling advancement in Wi-Fi 7 is Multi-Link Operations (MLO). The Wi-Fi 6/6E standard is used to decide which band (the 2.4 GHz, the 5 GHz, or the 6 GHz band) would be able to connect to devices on a single band on a fixed channel. To overcome this limitation, MLO shall enable Wi-Fi 7 to combine multiple frequencies across the tri bands into a single connection. This will handle the interferences and congestion issues in the network
In brief, while using the MLO technique the devices can send and/or receive data across the different bands and different channels simultaneously (Do you want to know its secret? Hint: it uses separate data and control planes)
Flexible Utilization of Channels
A technique called Multi-RU/Multiple Resource Units (Preamble Puncturing) shall be used to eliminate the transmission in parts of the channel for accommodating spectrum boundaries hence making it possible to use wider channels.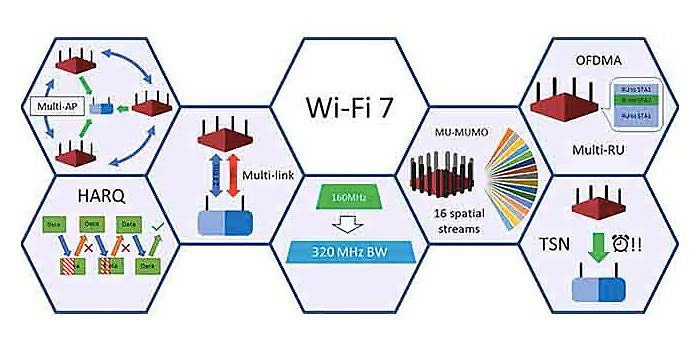 Multiple AP (Access Points) Coordination
In this Multi-APs shall synchronize their data transmissions by using OFDMA, TDMA, FDMA, etc, and spatial resources more effectively. This technique shall rely on direct AP coordination to achieve desired network performance goal. Different flavours of multiple AP solutions are being considered such as MAC-driven and PHY driven.
Deterministic Low Latency Enhancement
The Wi-Fi 6/6E can achieve single-digit millisecond latency. Features like MLO, Multiple APs, and 320MHz channels shall help to reduce the latency and jitter even further. Also defining better QoS (Quality of Services) can be a potential for deterministic low latency.
Additional Features
Some of the additional features will also be a part of Wi-Fi 7. But shall not be discussed in detail are as follows:
Enhanced Target Wake Time (TWT)
Open Roaming (OR)
Wi-Fi Sensing
Enhanced WPA3 Security
The various uses of Wi-Fi 7 shall be (but are not limited to) Virtual Reality (VR), Augmented Reality (AR), Industrial IoT (Internet Of Things), Drones, Robotics, Cloud Gaming, AR/VR gaming, Cloud/Edge computing, Video streaming (4K, 8K), voice/video conferencing, real-time collaboration, interactive Telemedicine, Real-time Machine Learning, etc.
The Wi-Fi 7, when it arrives, will not sweep away the Wi-Fi 6/6E. These two technologies namely the Wi-Fi 7 and Wi-Fi 6/6E are built on a similar platform and are likely to coexist for many more years to come. Wi-Fi 6/6E & 7 shall easily carry the weight of wireless fidelity technology for the coming decade. And lastly, the answer to the thought discussed at the beginning of this blog is "NO," one should never ask for a Wi-Fi password unless it is an emergency (such as urgent office work or an India-Pakistan cricket match).
We hope you find this article helpful. If you further need help in any such project or if you are looking for expertise/professional services in planning, developing, designing, and deployment for network consulting, collaboration, Network security, IT consulting, Virtualization, Private/Public/Hybrid cloud solutions, data center implementation, etc. then your search for the IT consulting partner stops here.
Zindagi Technologies Pvt. Ltd is a leading  IT consulting and managed cybersecurity company situated in New Delhi, India. We believe in "Customer First" and provide quality services to our clients always. To get in touch with us drop us a message at +91-9773973971 or you can also reach us via email.

Author
Shiva Mendiratta
Consultant- Customer Success