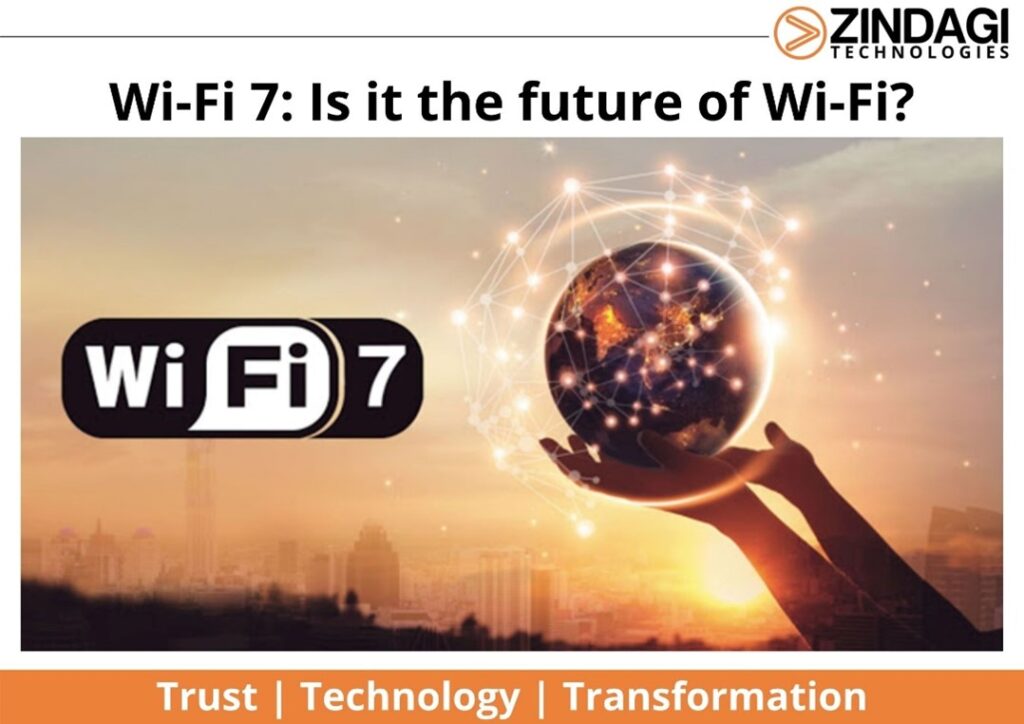 "I feel the need, the need for speed "
That is what most people say while downloading 5-6 new movies in Full HD to binge watch on the weekend that takes their Wi-Fi hours to do so. You must have wondered why it takes that much time and how to get more speed and if there was a way to make the download faster. In today's world, millions of devices are connected to LAN networks or via Wi-Fi networks. The current Wi-Fi technology being used is Wi-Fi 6/6E (802.11ax), for more details on Wi-Fi 6 check out our previous blog "What is Wi-Fi 6?" and let's jump on to wi-fi 7 and its details.
The Birth of Wi-Fi 7!

The Wi-Fi 6 Technology debuted in the year 2019 and created a boon in the wireless industry with its new technological approach and theoretical 9.6 Gbps download speed.
Regardless of that the full potential of Wi-Fi 6 was not even tapped in, and shortly after the Tech Barons announced the birth of a next-generation Wi-Fi Technology known as Wi-Fi 7.
The Wi-Fi technology over the last two decades has grown drastically under the nurturement of IEEE and Wi-Fi Alliance.
The latest state-of-the-art Wi-Fi Technology that is in use is Wi-Fi 6/6E and in the making is Wi-Fi 7.
The Wi-Fi 7 technology is currently under development and prototype stage and is planned to be rolled out by 2024 as shown in the timeline below.
Let us find out what Wi-Fi 7 vouches offer.
What is Wi-Fi 7?

The 7th generation of Wi-Fi (Wireless Fidelity), technically also known as IEEE 802.11be / Wi-Fi 7. The Wi-Fi 7 shall be extremely high throughput (EHT) standard that shall offer massively increased network capacity, very low latency, better efficiency, and stability over the wireless network as compared to its ancestors The Wi-Fi 7 shall be stronger, faster, and better than Wi-Fi 6/6E by leveraging all the three frequency bands of 2.4GHz, 5GHz and 6GHz in the wireless RF spectrum ranging from 1 to 7.25GHz.
The 802.11be technology shall deliver four times faster speed than 802.11ax technology even if the number of antennas used is the same. This advancement is possible in a such short period due to just reinventing and improving iterations on the Wi-Fi 6/6E technology.
The Wi-Fi 7 shall focus its growth majorly on Wireless LAN (LOCAL AREA NETWORK) services in indoor and outdoor environments This Technology shall revolutionize the wireless domain and shall open doors for wireless technologies in uncharted territories (like Drones, Augmented Reality, Virtual Reality, etc). The major players in this domain like Qualcomm, Intel, MediaTek, etc. are investing big in this 7th Generation Wi-Fi Technology.
So, in brief, the Wi-Fi 7 shall be capable of handling and solving your connectivity and downloading woes by offering you a seamless experience in terms of network speed, bandwidth, and latency.
We will continue with this blog in Part 2 where we will dive in to find what all technologies make Wi-Fi 7 improved and better than its predecessors.
We hope you find this article useful. If you need further help in any such task or if you are looking for expertise/professional services in planning, designing, and deployment for collaboration, IT consulting, Private/Public/Hybrid cloud solutions, data centre implementation, Network security, etc. then your search for the IT consulting partner stops here.
Zindagi Technologies Pvt. Ltd. is a leading IT consulting and managed cybersecurity company situated in New Delhi, India. We believe in "Customer First" and provide quality services to our clients always. To get in touch with us drop us a message at 9773973971 or you can also reach us via email.

Author
Shiva Mendiratta
Consultant- Customer Success