Citrix has been in the Virtual Desktop Infrastructure (VDI) line of business for ages and has been securing its place in the Leaders in Gartner's Magic Quadrant for a very long time now. Citrix's offering for Virtual Desktop Infrastructure is known as Citrix Virtual Apps & Desktops.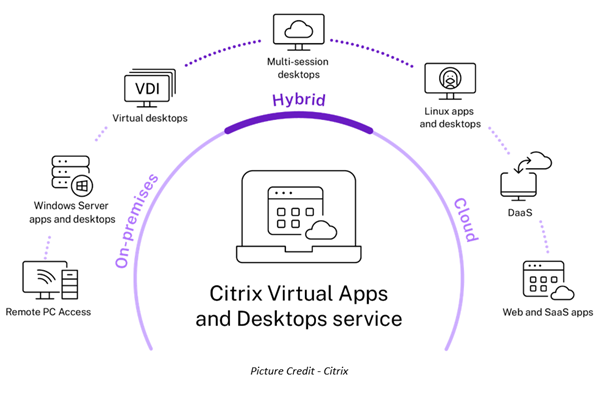 Before we begin, if VDI happens to be a new term for you, then don't worry. VDI basically allows you to run your desktops remotely and on LAN. Your computer is hosted inside the data center and you get your desktop from what we call a base/gold image. This means the user's desktop resides in the data center and all that user receives is a stream of their desktop. All the user data is stored in the data center.
Citrix offers several deployment models for thin client deployments. There are three models, namely:
On-Premises: All the infrastructure components are hosted in the data center. Provisioning and management services are managed by the end customer's operations team.
Cloud: All the infrastructure components and provisioning services are hosted on the cloud. Cloud provider takes the ownership of maintenance and operations in this deployment model. Several leading cloud providers like AWS, Google Cloud, and Azure support this deployment model.
Hybrid: Resources and infrastructure components are hosted in the customer's datacenter, virtual apps, and desktop services, workspace services are managed by Citrix Cloud.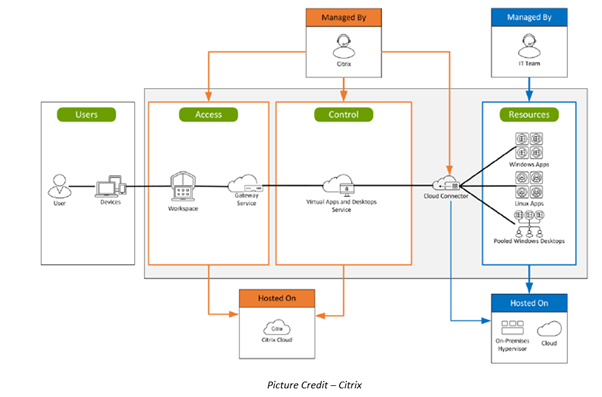 Above mentioned architecture focuses on a hybrid deployment model where resources are hosted on the customer's own data center and Access and Control layers of the architecture are hosted on Citrix Cloud.
Following are the few components which fall under Citrix Virtual Apps and Desktop suite:
Cloud Connectors
Citrix Cloud Connectors acts as a channel for all the communication between your resource location and Citrix Cloud. It connects to the cloud and makes it easy to manage without requiring any extensive networking configuration or complex infrastructure design.
The Cloud Connector helps in securing the communication between Citrix Cloud and the customer's resource location and encrypting the entire communication. Cloud Connector initiates the communication with the Citrix Cloud over HTTPS. Cloud Connector drops the incoming request from outside the data center.
StoreFront
Citrix StoreFront helps in streamlining the delivery and management of Citrix Virtual Apps and Desktops by parallelly enumerating desktops and apps across multiple sites and across various platforms. When the user access StoreFront, the machines/applications entitled to the end-user are displayed as an icon to launch for them, this is also often called Published App or Published Desktop. StoreFront performs several functions, namely:
Facilitates user authentication

Handles communication with Delivery Controllers to fetch the user entitlements

Stores users' resource subscription
Session Recording Server
Session Recording Server empowers the administrators by allowing them to record a session from the moment a successful VDI session is established until the session is disconnected. The session recording server uses a database for logging purposes. MS SQL is one of the recommended databases for Citrix Session Recording Server. Session Recording Server provides the flexibility of configuring policies on how the session recording should start that is, with notification or without notifying the end-user. Session recordings are recommended to be stored on local drives or SAN volumes. It is not recommended to store session recordings on an NFS mount point.
Machine Catalogs
Machine Catalogs are created on Citrix Cloud in a hybrid deployment. You define what type of machine and what provisioning services will be used in a Machine Catalog. You can add Single-Session OS or Multi-Session OS machines in a Catalog. Single-Session OS, as the name suggests, is the type of machine which can only be accessed by one user at a time whereas Multi-Session OS machines can be accessed by multiple users at one point in time. You would also need to install a Virtual Delivery Agent on the machine you would want to access via the VDI session. VDA agent communicates with the StoreFront server and Cloud Connectors to establish a VDI connection.
Delivery Groups
Delivery Groups allow you to set user assignments for Machine Catalogs. You can restrict a Delivery Group to a specific set of users, or you can allow access of a Delivery Group to all the people in an organization. You can also customize access to specific VMs in a Delivery Group with the help of Tags. Tags lets you give access to the user to access specific VMs in one Delivery Group.
So now we can say that these are the high-level components that are required to deploy a Virtual Desktop Infrastructure using Citrix's product line, Citrix Virtual Apps and Desktops. If you're looking for Planning, Designing, Implementation, or PoC professional services to build a VDI solution that suits your organization's requirements please get in touch with us or give us a call at +91 9773973971.

Author
Sumit Yadav
Data Center Consulting Engineer