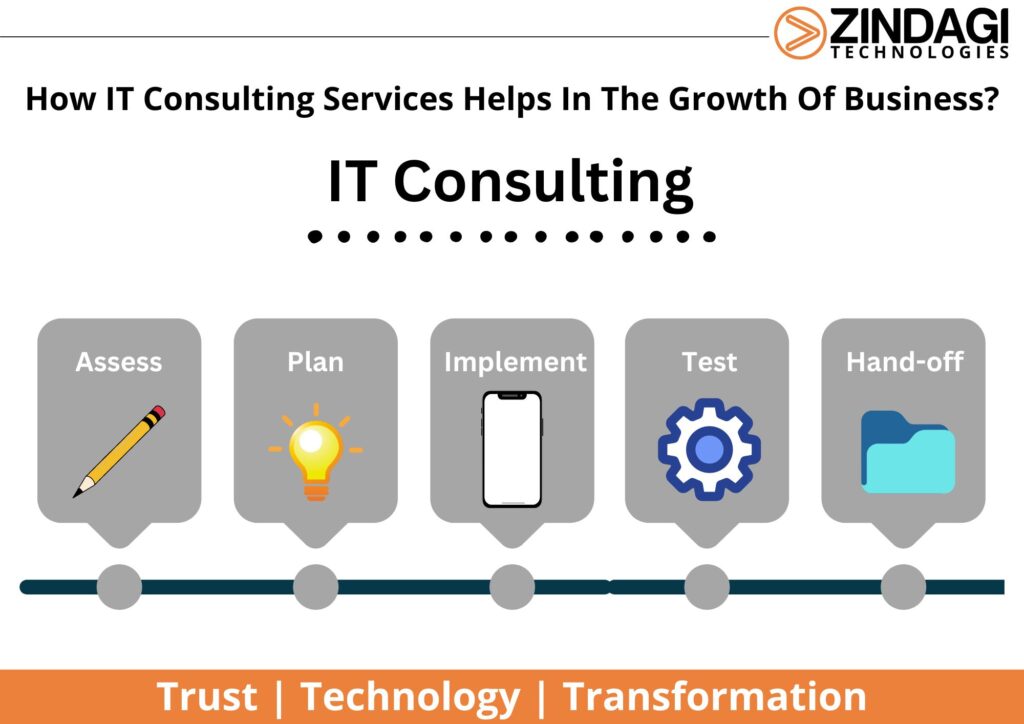 There are many situations that arise bringing up the difficulty level with them but most of the time the situations are handled. When the country was under lockdown because of the virus spread, IT Consulting Services in Delhi services were the most demanded services that were requested by the businesses. Be it a large organization or a small business, the services have opted for most. It is also one of the services that are misunderstood with its broad and complex concept and in this article, we will discuss the characteristics and how can we get the most out of IT consulting services.
Why Do Businesses Rely On IT Consulting Services?
IT Consulting Services in Delhi help in solving IT problems. If the IT consulting services are to be defined then we can say that they are advisory services by which the clients evaluate technologies strategies and they align with their business.
IT Strategy And Planning
The crucial phase of an IT consulting firm's operations entails the consultants looking into potential possibilities for strategic surveillance. The strategic IT consulting services will assist the customer make their fundamental plan, which they may already have, into a practical approach. An IT services and consulting firm will handle operations audits, a change in business model, and potentially even adjustments to the field of human resources or regulatory compliance by taking care of the complete IT transformation scope. In this manner, IT consulting and support is the ideal service across the whole journey of the business.
Security Risk Assessment
There are many security vulnerabilities, and regulation compliance, for which the IT consultants are called to evaluate and act against them. The security gaps are identified by the consulting companies, and they help in reducing those gaps by making arrangements on how to reduce them and how can the consultant get rid of them. IT consultants help in avoiding future cybersecurity threats when the company decides to plan the architectural design of the solutions.
Risk, Compliance, And Governance
IT consulting companies assist businesses in identifying, examining, and monitoring enterprise-related risks that are frequently connected to corporate-wide operations, the allocation of human resources, a company's adherence to established compliance rules, and the usage of technology. Anti-fraud consultancy, financial reporting, taxes, and human capital are the primary enterprise areas where governance, risk, and compliance (GRC) services are used.
Data Migration Service
Infrastructure design, enterprise platform migration guide, and database migration assessment are some of the IT consulting solutions. An IT services and consulting business offers organized and effective data migration services to assist clients in planning and carrying out a successful transfer while keeping in mind every potential concern, such as potential latency, scalability, integration, and security.
Disaster Recovery And Business Continuity
People say that the bigger the business bigger the risks but the small business also small businesses are equally affected by cyber threats, in fact, small businesses are more affected by cyber-attacks. The IT consultant will identify such attacks and use best practices to eliminate all the risks and mitigate them too. IT consultants should provide strategies to maintain the ongoing availability of all company-wide IT systems, applications, and data after evaluating a company's resilience. They should also help build disaster recovery plans with reliable data backup and recovery options.
Zindagi Technologies is the Top IT Consulting Services company in Delhi that is catering to all IT needs of different domains and sectors for more than half a decade. We believe in the quality of service and thus we provide only the best resources. Give us a call on +91 9773973971 or get in touch with us via email and we will get back to you.

Author
Shweta
Senior Executive, S&M