In this blog, we will see how we can upgrade the Fortinet firewall with format and upgrade process, usually, to upgrade the Fortinet devices there is always a specific upgrade path that has to be followed each and every time but the procedure which we are going to see also an official procedure to upgrade Fortinet firewall. Let's start
Before the upgrade, the latest firmware is required, follow the below steps to get the latest firmware to get downloaded:-
Step 1:- Go to the company's portal.
Step 2:- Click on Firmware Download.
Step 3:- Click on download

Step 4:- Select the latest firmware according to your Device model and click on HTTPS to download it.

Flash Format & Upgrade Process
When the device is not accessible via GUI (Graphical User Interface) or CLI, the Flash Format is required; however, when the console cable is attached, the Booting process is displayed.
The Flash Format step is also required if the device was upgraded using the improper upgrade path, even if the device is working OK currently, it may behave abnormally in the future.
As a result, it is recommended to flash format the device for the incorrect upgrade, load the Firmware through the TFTP server, configure the device from scratch, or load the config backup file of the same firmware as the device after the Flash Format.
The console cable must be connected to the console during the Flash format procedure.
Once connected, the booting sequence will be displayed on the console screen and it will be possible to interrupt the booting sequence by pressing any key.

Step 1:- You will need to first start the process of formatting the device, all the keywords are displayed on the screen as follows, Press 'F' to format boot device. It will ask you to continue to erase the data, press 'Y'. it will show the Format has been completed.

Step 2:- The next step is to configure the TFTP parameters (here I am using TFTP64 as a TFTP server) to initiate the process of downloading the firmware from your local system to the device. Press 'C' to configure the TFTP parameters.
Step 3:- Then enter the following TFTP related information for the connectivity between the system and the device to download the purpose of firmware from your local system to the Fortinet device.

Step 4:- Enter the local IP address, Subnet mask, gateway IP, TFTP server IP address, and the name of the firmware followed by the extension of '.out'.
Note: – the firmware filename you would enter from the TFTP server path should be matched exactly with the extension name of a file '.out'
Step 5:- After entering all the required information press 'Q' to quit and go back to the boot menu.

Step 6:- enter 'R' once to Review the information to make sure that you have entered it correctly.
It will show you the entered parameters as follows.
Step 7:- Make sure you have also connected your local system to the following port of the Fortinet device for downloading firmware. And press enter, it will ask you to save as default/backup/run image without saving, Press 'D' to save as default firmware and click enter. The following process will start.
Once the boot process has been completed, log in to the GUI.

After logging in to the GUI of the firewall click on the upper right admin icon, and notice that the latest firmware has been upgraded successfully.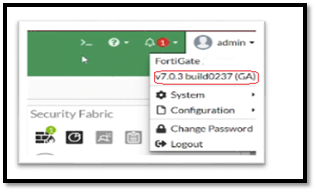 We learned today about, without following the upgrade path how we can upgrade our Fortinet firewall by Flash format and upgrade process, Stay tuned for the next edition in which we get some more network security concepts; until then, you can read my past posts here. And all the while, you can contact Zindagi on +91 9773973971 for the best Security or Enterprise network consultancy. For more information simply visit our website. Zindagi provides Datacenter services, Enterprise networks deployment, cloud solutions, the establishment of Network infrastructure, cyber security, and Cloud Migration, which helps your company to get enhanced over sophisticated technology. We have an experienced and professional team for network security, enterprise network, server virtualization, Datacenter network, ethical hacking, and cloud services.

Author
Sameer Vats
Associate Consultant