Google stands 3rd in cloud hosting services as Google offers great advantages for enterprises and individual holders. It also offers IaaS, infrastructure as a service. It's important to understand the importance of each cloud as cloud migration can become difficult so before you are ready to migrate, you know the drawbacks and the advantages beforehand. To get cloud based services in Delhi, you should get in touch with us and we will help you in Google Cloud Migration.
What Do We Understand By Google Migration?
First of all, stating the competition of GCP, Google Cloud Platform is AWS and Azure which makes GCP stand in the third position. GCP is a public cloud service and supports the same virtual machines as AWS and Azure. GCP is more focused on container workloads and also the ability to run the machine learning models efficiently.
Some Of The Cloud Services Advantages Of Google Are:
No commitment and good discounts as google charges per second, but the good thing is that the prices are less as compared to others.
One virtual machine is all it takes to migrate the workload seamlessly minus the downtime.
You get the same security measure services as Gmail, Docs, and Search.
A private global fiber optic network offers direct interconnectivity with its data centers.
5 Steps Of Google Cloud Migration.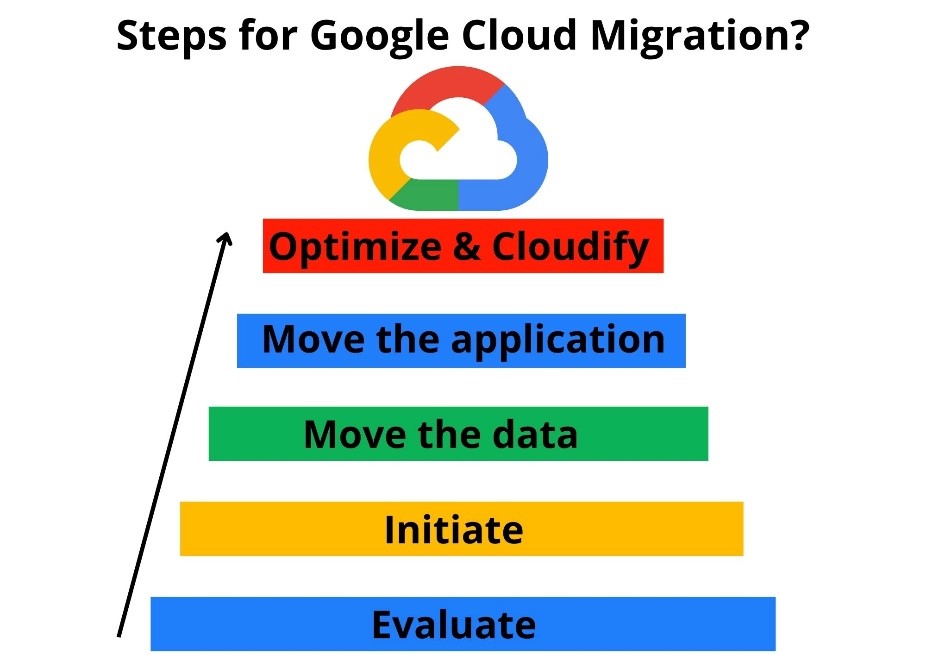 When you plan to migrate to GCP then google asks you to follow these steps:
Evaluate
In this step, you must evaluate the applications and the workload, and the primary considerations are:
Hardware and performance
Licensing issues and number of users
Accordance
Dependencies between applications
Then you divide these applications into 3 categories:
Easy moving
Hard moving
No moving at all
Initiate
Use the applications that are easy to move and migrate. To measure performance, you have to run the applications in production. If you plan to scale up your workload or add up more applications, then you should understand the licensing requirements. In case the migration fails, have a backup plan ready; you can go for on-premise or other cloud migration.
Move The Data
Moving the data to the cloud first and moving the rest of the applications is what Google suggests. The storage tiers given by Google Cloud Storage, SSDs vs. hard disks and Google Cloud SQL, Datastore etc. are to be considered. You have to plan on how you can move the data physically.
Move The Applications
It's better to perform "lift and shift" but if not then rebuilt the application with a mixture of GCP and VMs infrastructure services.
Optimize And Cloudify
Now, all the applications are running in the cloud, these ways will make it much better:
Making apps redundant across available GCP Zone.
DR planning using Cloud backup
Elasticity setup with autoscaling groups
Monitoring workloads with Google Stackdriver
Moving all static assets to cold storage
Launch and scale new instances by Google Deployment manager.
Automatic Migration – On-premises Data Center To Google Cloud
The most common way to migrate to GCP is by taking help from VMware vSphere and moving it to GCP which can be easily done by cloud computing services in Delhi. By Google Cloud Migrate for Compute Engine, this path is fully automated.
Follow the steps:
First, you have to configure your GCP organization account and here you can follow the full instructions.
Secure communication is to be created between an on-premise data center and GCP. This can be done by either google cloud VPN or cloud interconnect.
The next step is to configure matching firewall rules on the OP data center and GCP.
Velostrata Manager is a management UI provided by GCP that lets you control the migration. All you need to do is to deploy the migration.
The migration from within your on-premises data center is managed by a virtual application that is provided by GCP. Create a role in VMware and vSphere and configure the Velostrata on-premises backend by following these instructions.
Cloud Extension is to be created for the migration; a way to transfer VM storage between your storage and on-premise environment.
You are ready to run any VM in the cloud in vSphere Console.
If you are planning for cloud migration you are surrounded by commitments, then let us help in cloud migration. We are a top cloud computing service provider company in Delhi and will help you in all types of cloud migration, be it GCP or AWS, or Azure. Give us a call at +91 9773973971 or drop an email and we will get in touch with you with a migration plan.

Author
Shweta
Senior Executive, S&M