We have already covered the basic concept and traffic flow of MPLS in Part1 & Part2 of this blog series. In this blog we will discuss:
Several Applications used in MPLS
Prerequisite for Configuring MPLS
How to Install & Activate MPLS License
Several Applications used in MPLS
The following applications are used in MPLS:
MPLS Unicast IP Forwarding
MPLS L3-VPN
MPLS Traffic Engineering
MPLS Unicast Forwarding: With MPLS unicast IP forwarding, the IP packet gets forwarded on the basis of the MPLS label. However, when choosing the exit interface to switch the packet, MPLS considers only the routes present in FLIB unicast routing table just like FIB unicast routing table.
MPLS unicast IP forwarding does not provide any significant advantages by itself; however, other MPLS applications such as MPLS VPN & MPLS Traffic Engineering use MPLS Unicast IP Forwarding as part of MPLS.
MPLS L3-VPN: It uses a peer-to-peer model that uses MP-BGP to distribute VPN-related information with MP-BGP sessions established between PE to PE.
The following components are used in MPLS L3-VPN:
VRF
MPLS
MP-BGP


VRF: With VRF, we can create a dedicated routing table for a customer so that whatever prefixes are coming from that customer are catered into that VRF routing table. So, instead of getting a table and having clashes, VRF offers us the individual routing table. VRF uses RD value to segregate the user's prefix and RT value for transporting the traffic from one end to another through L3-VPN.
MPLS: In L3-VPN, an MPLS act as an underlay that will be used for label switching.
MP-BGP: It works on the overlay which will forward our VRF enabled L3-VPN-enabled packet from one site to another.

Note: VPNv4 is a type of additional community or address-family into the BGP that we need to enable to send the traffic via MPLS L3-VPN. In simple words, VPNv4 is an IPv4 prefix with a unique RD value. Traffic Engineering: Traffic Engineering is one of MPLS applications that has its own role to optimally use the network infrastructure, including links that are underutilized. It is reliable and fully optimal utilization of resources which improves the traffic performance of the network.
There are some benefits of Traffic Engineering as below:

– Efficient use of all bandwidth.
– Ensure the desired path through the network.
– Handling unexpected congestion.
– Fast convergence around the network.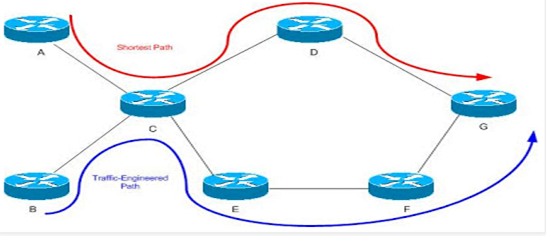 Prerequisite For Configuring MPLS
The following prerequisites are required while running MPLS:
The CEF must be enabled on a device.
The 'Metroipservices & Metroaggrservices' licenses must be installed and activated on the device.
MPLS must be enabled on global mode with the "MPLS IP" command.
We can enable MPLS on an interface as well by which our MPLS label packet will be carried.
How to Install & Activate MPLS License on a Device
The following procedure will be followed for installing & activating the MPLS license:
The following procedure will be followed for installing & activating the MPLS license:
1. We have to download the purchased MPLS license from the cisco platform with product & serial ID via www.cisco.com/go/license
2. After downloading the MPLS license, we need to install this license transfer on a device either using a TFTP server or Pen-drive from our PC.
3. Once it is installed, we have to activate the MPLS license as follow:

Configure terminal
Router (Config) #license boot level metroaggrservices
Router (Config) #license boot level metroipservices
Router (Config) #exit
Router # write
Router # reload
In this article, we learned about the several applications that are used in MPLS. We have also gone through the MPLS configuration part as well MPLS installation & activation on a device. If you want to avail services of Zindagi Technologies to upgrade your organization then please call on +91 9773973971 or drop us an email.

Author
Sani Singh
Consultant – Enterprise Networking