Managed IT Services means when an organization is giving third-party access to certain IT Functions. This is done so that the work does not stop, and the services are functional all the way from the bottom to the top. We also call it remote work management. There are circumstances when a team will remotely monitor your IT infrastructure and will manage too.
Technology Cost Can Be Controlled To An Extent
A recurring service model is used where you pay a set giving away the monthly cost. You have an idea of what you are going to pay, and it will help in planning your budget. Even if you add a user or install a new device then the cost will increase but this is also predictable.
As a managed service contractor, active monitoring and supervision will help in getting a hold of small IT problems before the expenses go out of hand. You will always have an idea of what amount of bill is going to be raised. You have the power to reduce the risk of unforeseen technology expenses.
You Will Get Certified Experts Who Are Trained And Experienced
There could be a chance that you don't have multiple certified technicians. With the help of managed services, you will have access to specialized technicians from different certifications. Having multiple skill set technicians is always an advantage as you will not have to worry about hiring and training your own resource as it will cost you more money as a single skillset is required most of the time. The managed service provider will take care of this aspect and will give the right expert with qualifications, skills, and right certification.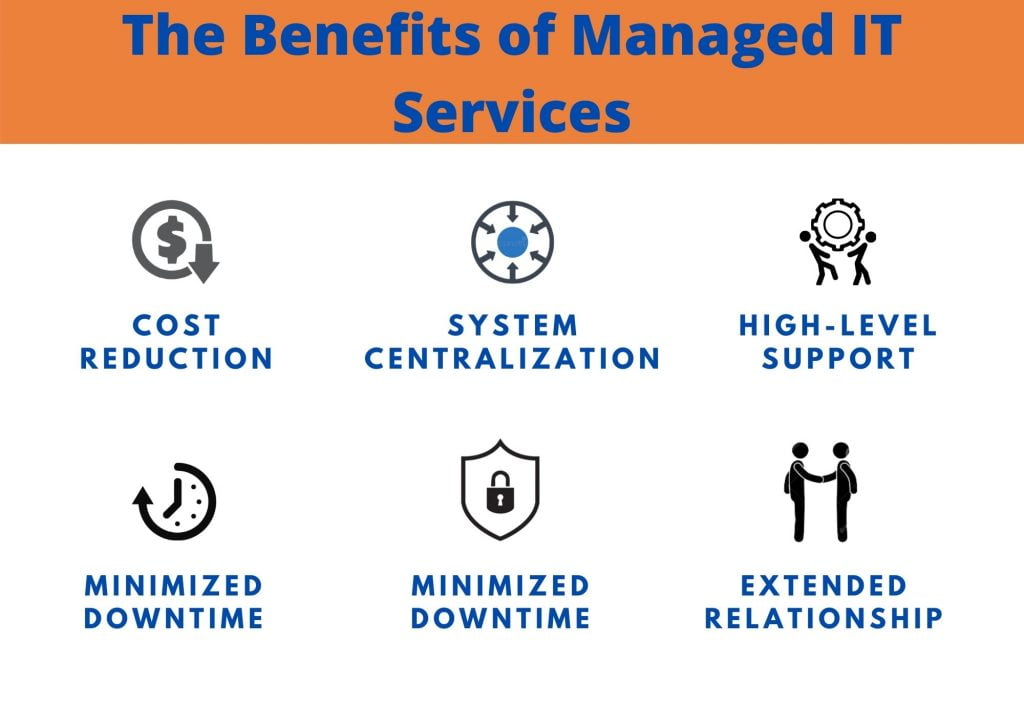 Increase Your Efficiency

Managed services give you the right opportunity to give more time to your business and the betterment of your staff. The time reduction in managed IT in face of research, implementation, development, and others will give you the option to run your business more efficiently and effectively. This in turn will increase your productivity and efficiency.
IT Health Is Improved By Managed IT
Managed IT will be able to align up the technology infrastructure. Some of the baseline requirements are present in the service contacts which means the lifecycle of the technology plan will be updated at the time of starting of managed services. That plan has to be updated regularly for future use which is seen with most of the clients.
With the help of outsourcing management and not falling into micromanagement, the infrastructure will be completely under surveillance and the small problems will not create any havoc crippling the infrastructure. Managed IT will give you a report on the status of your IT and will also tell the status of your switches, firewall, desktops, and servers. You will be able to make well-informed decisions with less guessing and more work.
Cybersecurity Will Not Be Your Headache
Some people work hard and some just take away the hard work by stealing the data and using it against them. This is one of the scariest ghosts that all businesses are currently facing right now. The essential security tools are anti-virus, anti-malware, and anti-spam which are the basics for monitoring and managing desktops and servers. While monitoring the traffic and finding malicious activities happening inside the network will be detected by managed firewall, backup, and network security monitoring.
As these are core cybersecurity tools so you have to strain yourself for the implementation or management of the services.
Managed services will help you in getting your expenses under control, increase efficiency and many more good things can be done with your business. Zindagi technologies will help in managed IT service. Being an IT consulting company, we will give you the best possible service and our best IT techs will make complete the requirements of your business. Give us a call at +919773973971 and we can get in touch.

Author
Shweta
Senior Content Writer