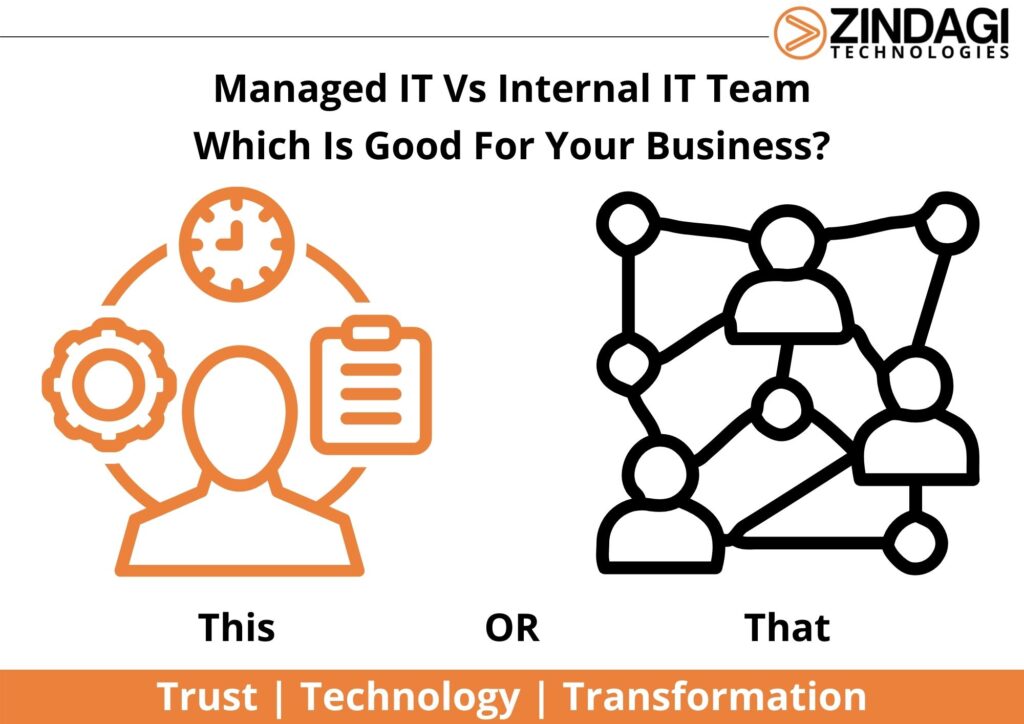 The size of your business will not decide your reliability on any technology in some way or the other. The more your company grows the larger your teams will be and you will be needing more resources. There is one such team known as the IT team which is the most important team in a business. The IT team is the team that takes care of the IT requirements and other IT-related stuff. It's not the privilege of every company to afford a good IT team that will work from and with their organization but they can have managed IT.
Managed IT services are the counterpart of IT services in which the organization gets a team, but the team is not in-house and dedicated. The team will work on the IT issues from outside the organization, but they would be dedicated to working on your requirements too. If we had to explain one difference, then we can say that the managed IT services will be working dedicatedly for your IT needs whereas the in-house team will be managing your internal IT tasks.
IT Managed Services For A Team
When you outsource your IT to professional IT providers then you are getting managed services. One of the biggest advantages of Managed IT Services is that you only pay for the service rather than hiring a team and paying them monthly even if you don't have any work. The outsourcing model is designed in such a way that it may or may not include hardware repairs, services related to replacements, and software management but under either circumstance, MIT helps in saving costs of internal IT.
Here are some of the complete business solutions that are provided by the managed IT service provider.
Server Administration
Anti-Malware and Anti-Virus Solutions
Desktop and End-User Support
Disaster Recovery and Backups
Compliance
Network Security
Infrastructure and Access Control
Data Management
The services can also be customized as per the need and align with the business goals.
3 Major Benefits Of Managed IT Services
There are endless benefits of Managed IT services but here we will explain 3 benefits:
The Costs Are Predictable
Who does not want to save money? When you have managed services then you are actually saving money giving away only for the services. You have to pay your managed IT service provider on a monthly or a yearly basis as compared to the monthly salaries paid to the internal team despite work or not. Not only this but as per your organization rules, your company benefits will also be provided to the team. With a modest investment in managed IT services, you can have a monthly or yearly package in which the custom-made services will be included, and you don't even have to bother about the expenditure of the hiring and training of the employees.
Lesser Downtime
Equipment failure is one of the biggest reasons for downtime but if you have managed IT support then you will be saved from longer downtime. In equipment failure, both server and system fail and you can do nothing except for the thing to be made again. the longer it takes time to resolve the issue the longer your downtime will be resulting in system fall over. The situation turns worse when you have not taken the backup.
When you don't have to worry about the in-house IT team then you are able to focus more on your business. With the help of managed IT services, you will be focusing more on the business goals. In addition to this, you get other benefits like
When you have the right MSP then we will have the correct understanding of your business and will align our services in such a way that you face lesser downtime.
We, with you, will be connected at all times.
We keep up with all the latest technology so that your business gets the best and latest.
Choosing The Right MSP
Zindagi Technologies is a leading IT support company that will help you in providing managed IT support for your organization. We will prepare a technology plan for you keeping in mind your business needs and goals that will be the best for you. If you want to get in touch with us then drop us a message on +91 97739 73971.

Author
Shweta
Senior Executive, S&M